FRENZY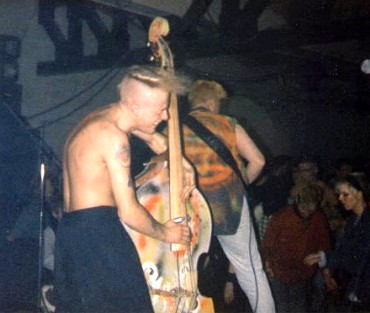 Frenzy came to be in 1983, formed by Simon Brand (g / v) and former Sharks and Shakin´ Quiffs band member Steve Whitehouse (v/b). The twosome recorded a demo tape under the name Hellfire and finally added Mervyn Pepler on drums. The trio signed a record deal with Klaas Westerbeek' s newly formed Cat Machine label and released the now classic 3-track 7" single Robot Riot. Frenzy became a headlining act within a year of forming and jumped over to Nervous Records for the release of their debut album. During the recording of Hall Of Mirrors, which took most of 1984, Simon Brand was asked to leave Frenzy due to differences of opinion and was finally replaced by Kev Saunders on guitar, before the album was eventually finished. After releasing the Nobody's Business four-track EP again on Cat Machine and successful stops at the Klub Foot, the band was signed by ID Records for two albums. The album Clockwork Toy hit the Top 10 of the UK Indie Charts and the single outtake 'I See Red ' peaked at #3 , remaining in the Top 30 for an incredible 27 weeks. Adam Seviour eventually replaced Merv Pepler on drums and the band toured throughout Europe. After a short break, Frenzy reformed with ex-Rapids Spike on guitar and released their fourth studio album This Is The Fire back in January 1990.
In a career spanning more than 25 years, Frenzy toured the world, reaching places like Holland, Spain, Japan and the United States Of America and also has a fine back catalogue of albums, EPs and dozens of tracks on compilation albums. Though the band had also undergone several lineup changes over the years, Steve Whitehouse, who also had stints with Restless and The Sharks, always found a way to carry his band from strength to strength.
In December of 2002, Frenzy released their 10th album "Dirty Little Devils". Since 2007 Frenzy is back full-time with a healthy touring schedule and two more albums saw the light of day. Steve Whitehouse, also highly regarded as one of the best slap bass artists in the circuit, is currently supported by Steve Eaton (g) and Adam Seviour back on drums these days.

Discography:
Singles: Robot Riot (1984)--Nobody´s Business (1985)--I See Red (1986)--Eastern Sun (1993)
Albums: Hall Of Mirrors (1985)-- Clockwork Toy (1986)--Sally´s Pink Bedroom (1987)--Live At The 100 Club (1988)--This Is The Fire (1990)--The Very Best Of Frenzy (1990)-- It's A Mad Mad World (1993)--Live In Japan (1993)--Nine `O´ Nine (1997)--Dirty Little Devils (2002)--Cool Bananas (2002)-- Nitro Boy (2007)-- -- In The Blood (2010)



[ Home ] [ TORMENT TRIBUTE ] [ PSYCHO NEWS ] [ GIGS, FESTIVALS,TOUR DATES ] [ UPDATES ] [ THE BANDS ] [ THE RECORDINGS ] [ INTERVIEWS ] [ LYRIX ] [ LINX/CONTACT ]