(added March 2010)
INTERVIEW WITH FLATTY
( GUITAR & VOX OF HOLY HACK JACKS )
by John McVicker
Where and when did you form?
We formed as a trio in November 2007 in a town called Freiberg (Germany). Me (Flatty) on bass, Torsten on guitar and Marco on drums. Our first proper line-up is dated to February 2008.
What's the line up and has it always been the same ?
The current lineup is me (Flatty) on vocals and lead guitar, Rico on bass, Roy on rhythm guitar and Marco on drums. Until September 2009, Torsten was our rhythm guitar player, but he left the band for personal reasons and we are fine with that as Roy is a perfect fit as a fourth band member.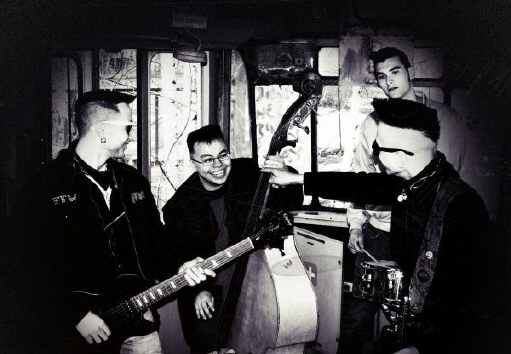 I take it that you are all big Demented Are Go fans?
Yeah! Everyone but Rico!
Have you ever met them?
Me and Marco met them in Annaberg but we didn't have any serious talks due to too much alcohol! Yeah, but i believe we will hopefully share the same stage with them sooner or later.
What bands influence your sound?
A lot of Psycho and Surf bands, to name a few Demented Are Go!, Deadbolt, P.O.X., Messer Chups, Scum Rats, Tazmanian Devils and Chris Isaak. We don't wanna feel restricted, we are open-minded and we are also influenced by other genres. We just go out and play the kind of music and sounds we like on our own way.
When was your first gig?
The first gig was on the 26th of April 2008. Other bands on the bill were Vendetta, Rico's previous band, Clorix Cats and Terror Tones. Great evening. We didn't have a clue if the crowd would like us and we were pretty pissed- haha. People seemed to like and the crowd finally started to dance!
Any funny stories to tell us?
Yes, but way too many. Our gig in Vienna, Austria or better our trip back and forth was funny-haha Sorry, I have to stop talking to avoid more trouble with the Austrian people-haha . Almost any gig includes a funny story to tell... haha
Are you pleased with the album and who is Curly?
I'm not really satisfied, I don't like the sound, it's too sterile. At the time we did it, we recorded all our songs from the set, we didn't have much to choose from. I really like Theme From Tarantino and Problems tho'. But we are really proud, we've got our own album that we recorded, produced and released by ourselves- no labels involved. I will produce next album myself to make sure that the sound fits with my ideas.
Curly is the band's mascot, the tiki head. The name doesn't bear a meaning and there's no special story about it. We just couldn't come up with any more stupid and was also used for the debut album. At least it looks like Curly will be part of the band for a while and i believe that he's the evil demon tiki, that makes us being drunk all the time.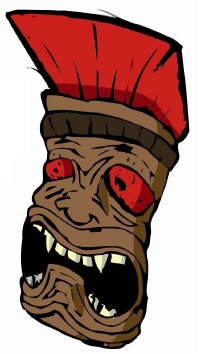 Do you guys have jobs or do the band full time?
It's a hobby or let's say a passion. Rico works as a media designer, Marco works as a process engineer, Roy is forwarding merchant and me (Flatty) is booking bands and a trainee in audio engineering. I also will start my civilian service in September.
What are your plans for 2010?
We will release a limited split 7" single with the Howling Wolfmen next, then there will be a five-track promo release and we will also write and record songs for our 2nd album, that is projected for release in 2011. We will tour Germany in July that includes nine shows, play as many gigs as as possible and keep doing the same kind of things we did the last years.
Thanks for the interview. We wanna say cheers to...
THE TAZMANIAN DEVILS , Headless Horsemen , Bennyzin , Howling Wolfmen , Suzy Q Records ( 100 % d.i.y. !!! ) , Grapes Of Wrath.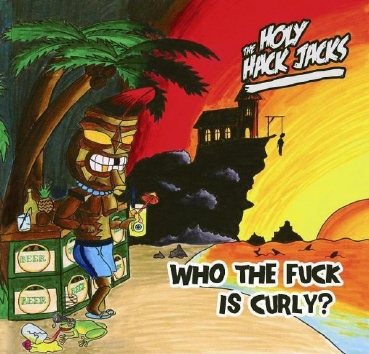 HOLY HACK JACKS- OFFICIAL HOME
[ Home ] [ TORMENT TRIBUTE ] [ PSYCHO NEWS ] [ GIGS, FESTIVALS,TOUR DATES ] [ UPDATES ] [ THE BANDS ] [ THE RECORDINGS ] [ INTERVIEWS ] [ LYRIX ] [ LINX/CONTACT ]