GUANA BATZ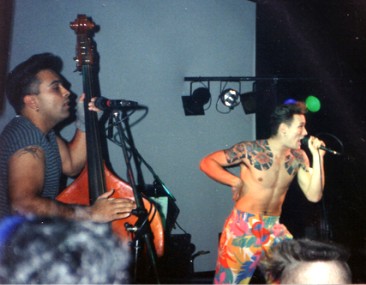 Guana Batz were originally formed in Feltham, Middlesex in the very early eighties. They got their name from documentary report on television that was hosted by naturalist Attenborough, who, was investigating the world of the vampire bat and waded knee deep into a pile of bat dung. The group's original lineup consisted of Pip Hancox (v), Stuart Osborne (g), 'Diddle' Turner (d) and Mick Wigfall (b). This line-up didn't release any material and because Stuart Osborne favoured an electric bass at that time , Wigfall was replaced by Mick White. This new lineup was responsible for two singles on Big Beat Records. One year later the Batz optioned for a double bass again, this time treated by former Ricochet Sam Sardi.
1985 saw the release of the long-awaited debut album "Held Down To Vinyl...At Last". The album is one of just two Psychobilly LPs that topped the UK Independent Chart and made the Guana Batz arguably to one of most popular Psychobilly bands of the eighties. Their next album "Loan Sharks" followed about a year later and was another big success. The band started to headline Psychobilly festivals and the Klub Foot regularly which was captured on both video and their Live Over London album, that was out in 1987.
After the release of Rough Edges, 'Diddle' Turner was out of the band and replaced by former Get Smart drummer, Jonny Bowler. With Jonny Bowler and Pip located to San Diego, CA during the 1990's, the Guana Batz have spend less time in the studio and on the road. At the moment, there are two different Guana Batz line-ups, one for Europe ( Hancox, Lambourne, Osbourne, Bowler) and one for the U.S.A. ( Hancox, Bowler, Merigillano, Pappas). It seems very likely a new Guana Batz album will be available in 2011.
Discography:
Singles: Youíre So Fine(1983)--The Cave(1984)--Seetrough (1986)--Iím On Fire(1986)--Rock This Town(1988)--Electra Glide In Blue(1989)--Shake It Up(1993)-- Stuff(1995)--Saving Grace(1996) -- Shake It Up (2002)
Albums: Held Down To Vinyl...At Last (1985)--Loan Sharks (1986)--Live Over London (1987) -- Rough Edges (1988)--Best Of The Batz(1988)--Electra Glide In Blue(1990)--Get Around(1994)--Powder Keg (1996)--1985-1990 (1998)--Peel Sessions (1998)--Undercover(1999)-- Can't Take The Pressure (2000)--The Very Best Of The...(2001)-- Best Of The Batz (2004)-- Stomping At The Klub Foot (2005)-- The 80's Single, EP's & Compilations (2009)
[ Home ]
[ TORMENT TRIBUTE ]
[ PSYCHO NEWS ]
[ GIGS, FESTIVALS,TOUR DATES ]
[ UPDATES ]
[ THE BANDS ]
[ THE RECORDINGS ]
[ INTERVIEWS ]
[ LYRIX ]
[ LINX/CONTACT ]