(added February 2014)
INTERVIEW WITH DICK DYNAMITE
( FORMING MEMBER AND BASS PLAYER WITH DICK DYNAMITE & THE DOPPELGÄNGERS)
by John McVicker
How old are you and where did you grow up?
I'm 28 and I grew up in Raglan, New Zealand. Raglan's a small beach town on the North Island, near to Hamilton (where the DOPPELGÄNGERS started) and Auckland.
When did you fist became interested in music?
I've pretty much always been into music, my dad plays the guitar and writes folk songs. He has a big record collection so I grew up listening to lots of music - Beatles, Bowie, Black Sabbath and the like. My granddad plays a bit of bass and banjo in a country band as well.
When did you first pick up a double bass?
I first picked up a double bass when I started the DOPPELGÄNGERS, about seven years ago now. I played the violin and guitar in school, and had been playing bass gat in a Punk band for a few years. I taught myself to play by listening to Psychobilly bands and trying to copy the sound, around that time my big influences were Batmobile, Guana Batz and the Sharks - was also way into the sound of Tomas' bass in the Kings of Nuthin'.
What was your first band and did you releases anything?
I played in a band with my brother Sammy (also a founding DOPPELGÄNGER) when I was about eleven for a national school battle of the bands. Just out of high school we had a Punk band together called Frogletter as well which played a mix of Punk, Rock'n'Roll and Jazz, which really led us towards Psychobilly. We never released anything although there are a few demos kicking about.
When and how did the DOPPELGANGERS form?
Frogletter had been falling apart, we had a mental drummer who was getting us banned from venues and shit who wasn't much fun to be around anymore, I was also then singing for a Ska band called PSI, and our drummer Chris and I were watching a live DVD of the Stray Cats and he mentioned how he'd quite enjoy playing Rockabilly drums and try standing up at the kit. So pretty much overnight I found myself a cheap double bass and started writing some rockin' songs. At first we weren't sure what we were trying to be - but Psychobilly just always felt more open than just playing 12 bar blues all the time. At one point the band was going to be called "Dick Dangerous and the Space Zombies" but thankfully we settled on DICK DYNAMITE & THE DOPPELGÄNGERS instead.
What releases have you had? Were there many line up changes and when and why did you decide to come to the United Kingdom?
We released an EP 'Be My Abductee' around a year after starting up. The whole thing was recorded live in a room with two mics to make stereo sound, and the some vocals overdubbed after. We did about 60 copies on clear vinyl which sold in the first week, pretty sweet little collectors items now. I also made a video for the title track using some dodgy green screen and just a wee bit of inspiration from Edward Wood.
We spent almost all of 2010 recording our first album 'Psychopaths from Outer Space', which was ENTIRELY self produced, recorded, mixed, mastered and everything by us, I think we probably spent too long on it and lost sight of what we wanted to achieve, but I still dig listening to it sometimes.
In 2011 we had a bunch of new songs and a new style so we talked to Dave Hine from Puppykiller Records about doing an EP at his studio, we also won a little band competition in Hamilton which featured some over-the-top prizes, so we ended up cutting a few songs with Dave, and recording our single 'Deviant' at York St Studios (which is the most well known and expensive place in NZ :P) we also filmed a video with IndieFilm and those guys went all out with my video treatment - I think they bought about 10 litres of fake blood. The EP came out around the end of the year, called 'Return of the Doppelgangers'.
In 2012 we also recorded a few more songs, Partners in Crime, played gigs up and down the country and essentially realised we'd done as much as a Psychobilly band in New Zealand really can do. So we picked up and moved to London. Sammy became a father, so he had to stay in NZ, but he came for one European tour with us before settling into fatherhood. Since Sam was gone we needed an English guitarist and Loz popped up at just the right time. At the end of last year Chris had to go back home too because his visa expired, and we found us a speedy Spanish drummer called Aitor.
Where are you based now? Do you like it? in the UK and what are you doing for a living?
We're now firmly based in London, we play when we can and are looking to book gigs right now! We had a brief break after recording our new album to train up Aitor in the ways of the DOPPELGÄNGER. I love it in the UK, my wife's family live in Hereford so we visit them quite often and its just great being in a city where shit's going on. It's also great being able to pick up a Ryan air flight to Europe at the drop of the hat and visit people or play gigs. We play in Berlin quite often. I work as a barista (making coffee, not lawyering).
How did you get the deal with Diablo Records and are you happy with the sound?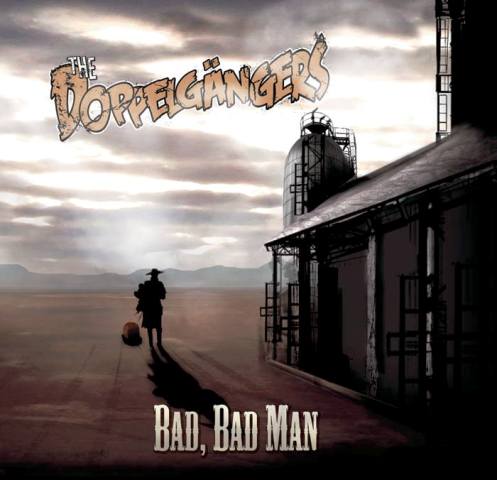 We approached Doyley with a CD of our previous stuff and mentioned we were keen to do a new album at Camden Recording Studios, this was about the same time that he was starting up Diablo Records so he suggested we release it with them - which we were totally keen to do, so here we are on Diablo. Really dig Doyley's production, he's sweet to work with in studio because he plays every f**king instrument and isn't afraid to give a straight opinion. Particularly handy when you're trying to do something shit that won't work, haha. Dig the sound, its the biggest sounding rhythm section we've ever had, which is badass. (He forgot to put some spaghetti western samples at the beginning but we forgive him.)
The album's called Bad, Bad Man and you can totally buy it (and all our other releases) from our bandcamp!
You also play with Death Valley Surfers? How did that come about?
Russ was one of the first promoters to give us a gig over here at the Klub so I knew him pretty early on. When he needed a new bassist he shot out a bunch of texts and I kinda assumed someone would have already popped up. Then that weekend I saw him and he mentioned it again, something like "Do you know and saxophone or double bass players?", since I happen to be a double bass player I joined up. Now we've been on a couple European tours, drank way too much tequila and looking down the barrel of an album.
What's the future? Have you got many gigs lined up with both bands-any recording plans and what do you miss most about New Zealand?
Future... well I'm smack bang in the middle of sorting out my immigration status - planning to stay in London for the foreseeable future. DOPPELGÄNGERS are back on the gigging circuit, got a couple hours of material sorted and about to get back into writing some new stuff especially for the new lineup. We're playing a couple of MASSIVE Diablo Records gigs in the UK and Germany later on this year, we're also in the process of booking a tour or Europe this year with our buddies the Devil Wrays and the Moonshine Stalkers, young new UK Psychobilly taking over the world. DVS is recording some new stuff next week, so that will be out this year, playing some festivals this year, supporting Mad Sin next week and then who knows.
I miss a lot of things about New Zealand, my band mates, all the other bands we used to play with and friends/family over there. Swapper crates of beer. Beer with twist top lids. Double Brown (beer). Oh, and gigs that don't finish until I've drunkenly slurred the words to some song by Danzig or the Stray Cats we've never practiced at 4am.