DEMENTED ARE GO!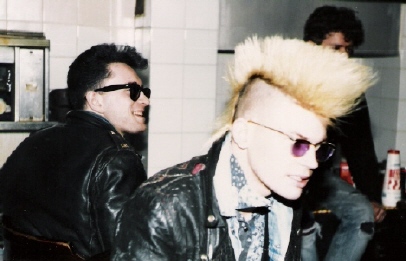 Itīs told that by 1982 Demented Are Go had already been formed somewhere in South Wales by Mark Phillips (v), who was later also known as Spark Douche Retard and his cousin Ant Thomas (d) . An early lineup change brought in guitarist Dick Thomas, who has no blood relation to Ant. They were backed up by temporary bass players like Ray Thompson, who also picked strings for other Rockabilly outfits like The Questionnaires, and Simon Crowfoot, who later gained fame with Torment. The band recorded two tracks for the "Hellīs Bent On Rockinī" compilation album in 1984 ,but it took 18 more months before their debut album ,In Sickness & In Health, was released on ID Records . Both the album and the supporting single outtake, "Holy Hack Jack ", hit the UK Independent Charts in 1986 with their debut long-playing record still highly respected as one of the most essential albums of that genre all time.
Graeme Grant (b) and Lex Luther (g), who was found at the bar in the Klub Foot, replaced Ray Thompson and Dick Thomas, who left after " In Sickness And In Health " and a successful tour all over Europe. The rearranged outfit started to write songs acoustically, because they all lived in a squat in London with no electricity. The result was "Kicked Out Of Hell", their second straight Psychobilly classic.
The unique voice of Phillips, their special blend of Rockabilly mixed with Punk energy and attitude and, itīs worth mentioning, some really insane lyrics on topics like sexual depravity and drug abuse, made them a fan favourite to legions of Psychobillies in the second half of the 1980s. True and not-so-true stories about nudity, removed penises, rubber fishes, grave robbing, and onstage sex with a vacuum cleaners and blow-up dolls only helped to increase the bandīs popularity over the years too.
Over the following years, DaG suffered from many lineup changes, breaks and Phillipsī constant drug problems. But every time when the band split up, Demented Are Go came back with a big bang. More than a dozen albums have been released so far and in 2005 Demented Are Go offered their latest opus on People Like You Records. Ex-Klingonzs Strangy (b) and Doyley (g) completed the lineup for Hellbilly Storm ,both of whom left prior the official release of the album, but the current lineup of Sparky (v), Ant Thomas (d) , Stan Standen (g) and Heartbreak Engines founding member Grischa (b) is currently very busy touring all over Europe.
Discography:
Singles: Holy Hack Jack(1986)--Marijuana (1993)--The Chase(1995)--Demons Of The Swamp--I Wanna See You Bleed(1996)--Sickness Of Truth (1997)--Hotrod Vampires (2005)
Albums: In Sickness And In Health (1986)--Kicked Out Of Hell (1988)--The Day The Earth Spat Blood (1989)--Live & Rockin' (1990)--Go, Go Demented (1990)--Orgasmic Nightmare (1991)--Tangenital Madness (1993)--Live In Japan(1993)--The Best Of Demented Are Go(1993)--Who Put Grandma Under The Stairs(1996)--Satanīs Rejects(1997)--Hellucifernation (1999)--
I Wanna See You Bleed(2000)--Stomping At The Klub Foot(2002)--Live At The Galaxy(2003)--Hellbilly Storm(2005)
[ Home ] [ TORMENT TRIBUTE ] [ PSYCHO NEWS ] [ GIGS, FESTIVALS,TOUR DATES ] [ UPDATES ] [ THE BANDS ] [ THE RECORDINGS ] [ INTERVIEWS ] [ LYRIX ] [ LINX/CONTACT ]