DELTAS, The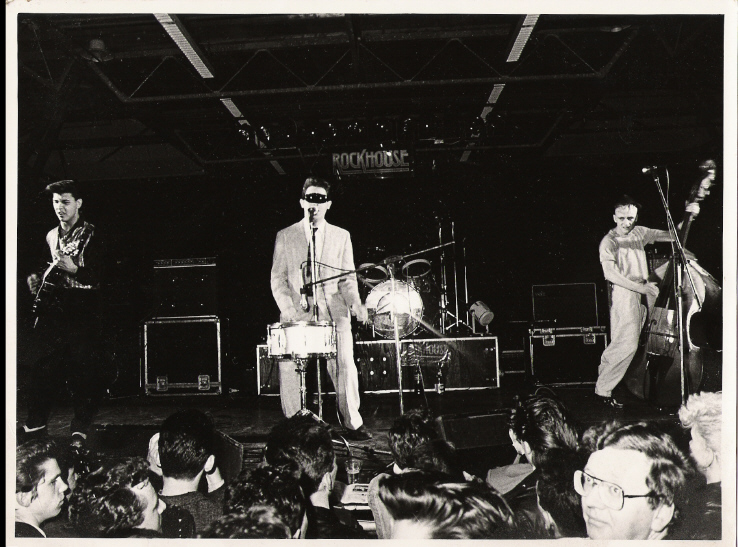 (Photo by Hendrie )
Long before terms like Psychobilly and Neorockabilly became common , The Deltas had already started spreading their own brand of high-energy Rock`nīRoll. The original lineup was Steve Bongo (v, d), Captain Pat Marvel (g) and Little John (b) and the trio recorded a demo tape in 1980, loaded with 50īs Rockabilly obscurities like Who Told You?, My Babe or Your Wildcat Ways. A year later they'd already got quite a reputation to be one of the wildest live acts and most talented rocking bands out there. Roy Williams, who had just started his own record company, contracted the Deltas and recorded the now classic Boogie Disease album with them in the Pathway Studios. He introduced them on the back sleeve of the longplayer as "-wilder than the Polecats-crazier than The Meteors". The album sold well and The Deltas became very busy touring the UK and the rest of Europe, playing small clubs as well as some of the big RnR weekenders.
Some years later, the lineup was enlarged to a five-piece outfit with well-known ex-Polecat Boz Boorer (g) & John Buck (d) and the band released their more weirder, more diverse second album, Mad For It (1986), on ID Records, followed by another studio output Tuffer Than Tuff (1988) , a four track EP entitled You Canīt Judge A Book(1988) and a live album on the Link Records Live and Rockinī (1989) series.
Their unique blend of high-power Rockabilly, Blues and pure Rock`nīRoll energy still attracts both Psychobilly and Rockabilly followings all over the world and the band has also been included on many essential Psychobilly compilation albums, such as The Magnificent Seven and Hell's Bent On Rockinī . Though continuously rumoured for an official comeback, The Deltas haven't recorded new material since the 10īī vinyl offering From Fleetville To Vegas back in 1995 and have only played a few live shows over the last decade.
Discography:
Singles: Heart Attack(1981)--You Can't Judge A Book(1988)
Albums: Boogie Disease (1981)--Mad For It(1986)--Tuffer Than Tuff(1988)--Live And Rockinī(1989)-- -- From Fleetville To Vegas(1995)
[ Home ] [ TORMENT TRIBUTE ] [ PSYCHO NEWS ] [ GIGS, FESTIVALS,TOUR DATES ] [ UPDATES ] [ THE BANDS ] [ THE RECORDINGS ] [ INTERVIEWS ] [ LYRIX ] [ LINX/CONTACT ]