(added September 2012)
INTERVIEW WITH DAVE FINNEGAN
( LEAD SINGER WITH SHARK BAIT, SCARED STIFF AND ACTOR)
by wildhank
Who were THE BONESHAKERS and THE KILLER PUSSIES respectively and what were your main influences back then?
The Killer Pussies were a one off gig in Dublin in the early eighties myself and some musicians got together for a Halloween thrash night .The Boneshakers were formed later we were Irelands first Psychobilly band influenced by The Meteors and Guana Batz and The Sharks, The Stray Cats and old-school Rockabilly.
How would you describe the Irish scene from the early/mid-80's in a word or two?
Although London was the place to be, Dublin was not far off, the music scene was in good health, Ska, Mods, Punks, Rock/Psychobillies and Teds and Skins.
THE BONESHAKERS eventually nailed a demo including a tune called Werewolf Boogie that is also available on YouTube. How did this song become a Klingonz' classic and do you like their version on Psycho's From Beyond ?
I wrote Werewolves Boogie in THE BONESHAKERS then I left, Doyley joined the BONESHAKKERS then he and Titch went on to form the Klingonz. First time I heard them play it was when we were on the same bill at the Klub Foot, I am proud of them keeping the song. Good version.
When and why did you walk away from THE BONESHAKERS and how did you get the original lineup of SHARK BAIT together?
I left THE BONESHAKERS for personal reasons, I met Simon Farrell (SPELLBOUND) busking, who was only 15 and probably the only guy that liked psycho music with a double bass and Ferg and Martin the guitarist were playing in a Rockabilly band, D Caged Tigers. We nicked them and SHARK BAIT were formed.
The song Shark Bait made it on the The Weird Weird World Of Guru Weirdbrain in 1985. How did it come about and what are your favourite tracks on this compilation album?
Eamon Carr was a famous drummer in Ireland with a band called Horslips and journalist, he was a fan of the band and asked us would we like to put a track on his new Trash album, hence our first recording. Thereís a crampish band on it called the Gorehounds. I like their stuff we used to gig with them quite a lot.
How was it like to be taped at the legendary Klub Foot for the forthcoming release of Stomping At The Klub Foot Vol. 5 and any funny story left from this particular night?
The Klub Foot was like heaven and getting to record live with our favourite bands was unbelievable, as for a funny moment canít remember we were all drunk (lol).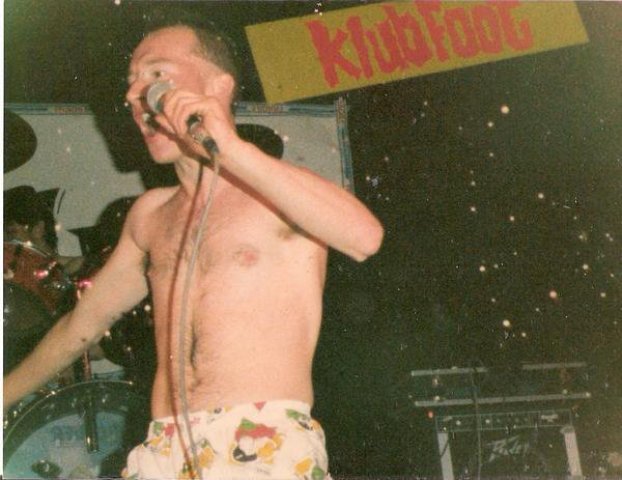 When and why did SHARK BAIT call it quits ?
We were moving up the bill on the Klub Foot and our drummer left, we brought in Neal who had a heavy rock influence, so I think musical differences would be the answer.
Next was SCARED STIFF. So what was the main idea of forming yet another band, how did you get the deal with Link Records and are you still pleased with Dark Streets after all these years?
I was pissed off about the SHARK BAIT split and wanted to get a new band together asap, so some old BONESHAKERS and SHARK BAIT formed SCARED STIFF. Chuck from Link called me and asked would SHARK BAIT do an album I told him we split and had a new band SCARED STIFF. 500 quid later Dark Streets was born, I think we drank half of the fee and got a cheap recording (lol), I was amazed how the album was well received , I went looking for it a few years back and was told it was still on the scene. Iím fond of that album.
How did you become Mickah 'Don't Fuck With Me' Wallace in the blockbuster The Commitments?
I was known as a wild front man on the scene ,I was out busking one day and these producers see me and asked me to audition, ,then Mickah Wallace was born.
Due to the success of the movie you also decided to form the DAVE FINNEGAN'S COMMITMENTS. You have been touring world-wide and have been performing with some global super stars like BB King and Dan Akroyd. When and where was your most memorable gig with THE COMMITMENTS and which of all these stars did leave you the most impressed?
After the movie some of us went touring the globe for years playing with many Soul and Blues stars, Wilson Pickett and Sam Moore (Sam and Dave) James Brown and BB King, had to be the most memorable. I love that Deep South sound raw. So many Gigs to mention.
What were the main reasons to reform SHARK BAIT after twenty-something years and how did the recordings for the debut album go ahead ?
Rocka/Psychobilly was and still is my first love, I regretted never recording an album, so I met some of the guys through Facebook and MySpace, we got talking, and said why not, letís do it. Iím glad we finally got to do it before we went on our merry way and got old.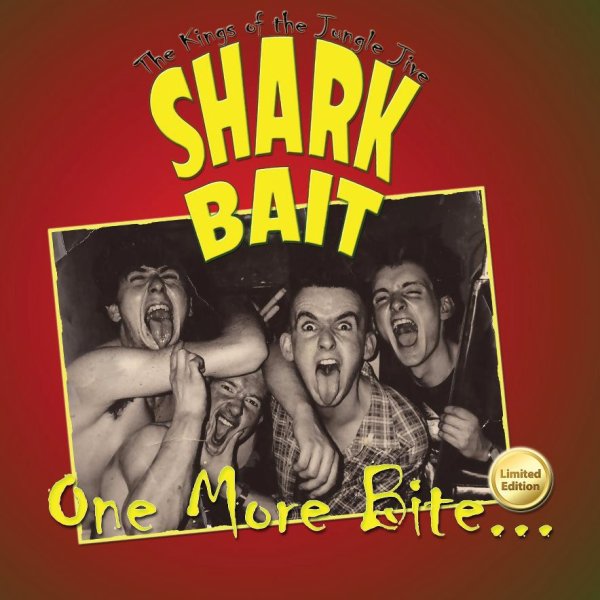 What are your favourite tracks of One More Bite ?
Vampire of My Love, One More Bite, and Problem Child.
You were also in the studios to record some demos under the moniker of DAVE FINNEGAN & THE ZORCHMEN. How was it like to work with Doyley and Ginger Meadham and why didn't you record this material with SHARK BAIT?
I moved down to London a few years back, went into Camden to see Doyley whom id known from our young Dublin days but we never actually worked together except for the odd busking session. I told him I wanted to record some tracks Iíd written, so that's how that came about, it was great to work with him and Ginger ( a Psychobilly hero lol ) and Bruno from the Moonshine Stalkers. I am gonna keep them songs for the new SCARED STIFF next year.
Will you continue working on all these projects in 2013 and are there any gigs or festival appearances on the Continent in the pipeline?
SHARK BAIT are working on some festivals in Europe next year, and I am gonna bring SCARED STIFF back for an album and gigs and for some recording. PSYCHO FOREVER :)