(added July 2010)
INTERVIEW WITH DAVE DEVILLE
( TWANGY GUITAR WITH KLINGONZ,HIGHLINERS, SHAKIN D.T's, OPTIC NERVES )
by wildhank
You are just back from appointments in California and Spain. How did the shows go and did you have a good time?
Both shows were awesome! Klingonz at Ink & Iron and then Highliners at Pineda are the two best gigs I've ever played. Big crowds & great response.
At which age did you get your first guitar and do you still remember the first song you were taught to play?
I got my first guitar when I was 7 but didn't start to learn to play until I was 11 or 12. I think the first whole tune I learnt was Apache by The Shadows.
What was the soundtrack of your teenage days and what are your main influences as a guitar player?
My teenage soundtrack was a mixture of Rockabilly, Psychobilly, Punk, Surf & Rock n' Roll. (still is actually!).My favourite guitar players were Brian Setzer, Mick Jones & my Dad!
How many guitars do you own and what's your favourite one?
I think about 25. My favourite is still my Gretsch 6120. I've had it for 23 years now.
For what I know you are currently with four bands. Do you still have a day job and how is it like to have a life on the road?
I don't have a day job anymore. Being in 4 bands takes up a lot of my time! Yeah I really enjoy tours & gigs. It's the lifestyle that suits me best.
You are a band member with the Highliners. When did you join them and are there any plans to gig more frequently than at the current pace?
I've been in The Highliners for about 7 years now. Yeah now we have the permanent line-up sorted out, we're gonna be playing regularly from now on.
Luke Morgan told us two years ago that the Highliners are recording again. Any news about forthcoming releases?
Hopefully we will record this year. We haven't set a date yet though.
You are also with the Shakin' D.T's. Why did you switch from bass to guitar and which song do you enjoy the most of the band's live set?
Yeah the first gig, I played bass but on the German Tour, Doyley decided that as he was playing guitar for Captain Drugbuster, he'd prefer to go on bass for the D.T.'s so we swapped over. My favourite song of the set is Rockabilly Rebel. It always goes down well.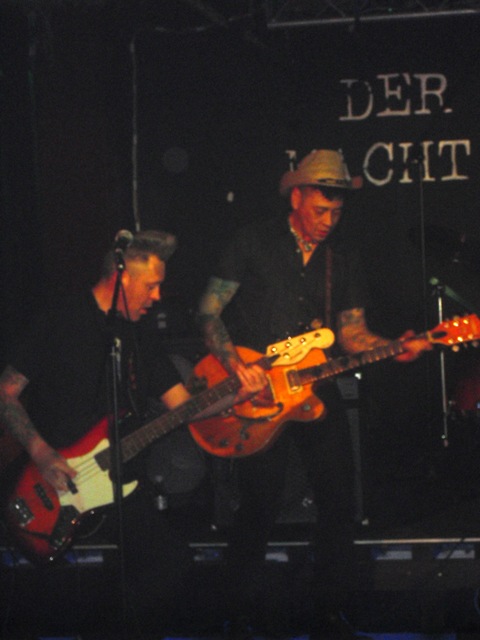 How did you become a Klingon and what's next with the klownz?
I saw a bulletin on MySpace that they needed a guitarist. I knew Titch already so we just took it from there. We've got quite a few shows booked at the moment. Kreepers on July 3rd, Then Czech Republic & Germany. We're also working on songs for the next album.
Let's talk about your own band, the Optic Nerves. Please introduce the line-up and tell us a little bit more about the band.
Well The Optic Nerves are 2 guys & 2 girls. I'm on guitar & main vocals, then there's Odette Dillon on bass guitar & vocals, Fi Jacobs on the electric piano & Lee Andrews on drums. We play mostly Psychobilly but there's surf, 60's garage and whatever else we feel like putting in there as well. We do as many shows as we can but always looking for more so if there's any promoters reading this...............................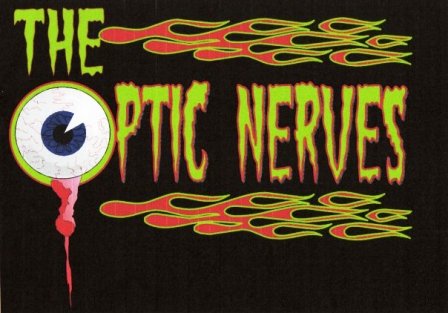 I found a video on YouTube, displaying the Optic Nerves and Eddie Tudor performing Swords Of A Thousand Men. How did it happen and is the song part of your regular live set?
That was a fun night! Yeah, Ed played at Fi's boyfriend's pub & we were the support band. He normally gets the support to play that song with him, so that night it was our turn. We did Roll over Beethoven with him as well! No, that's the only time we've ever played that song!
How would you describe the sound of the Optic Nerves and what's about any releases?
Hard to describe really. Best come along and make your own minds up! We did a demo with the first line-up but should be recording a full album later this year.
What ever did happen to the Vulture Squadron and what other bands have you been with?
Ah, The Vulture Squadron! Well we had a lot of band members over the years (even Rob Tyler from Restless & Spider from The Meteors), Changed our sound many times too then it eventually evolved into a garage band called Corpus Earthlings with Lee who's now in The Optics on drums. At the same time I was in a punk band called Nuclear Anarchy and I've also been in a hardcore punk band called Deathskulls, a streetpunk band called Hotwired, also a Ska/Punk band for a while called Ex-Cathedra (on bass guitar).
I've no plans to join anymore though as I think four is enough for now!
[ Home ] [ TORMENT TRIBUTE ] [ PSYCHO NEWS ] [ GIGS, FESTIVALS,TOUR DATES ] [ UPDATES ] [ THE BANDS ] [ THE RECORDINGS ] [ INTERVIEWS ] [ LYRIX ] [ LINX/CONTACT ]