(added June 2014)
INTERVIEW WITH EDDIE
(DOUBLE BASS PLAYER WITH KLINGONZ, DEMENTED ARE GO, THE EXIT WOUNDS, HANNAH RICKARD & THE RELATIVES)
by John McVicker
Where and when were you born?

Watford, Herts June 1970.
When did you first start being interested in music?

I started playing brass when I went to senior school around 1982, ended up playing the Tuba in the local youth orchestra but stopped in 1985 when I left school. Ska was massive in the early eighties so everyone at school was into it, it dominated the school discos and there'd be gangs of us moon stomping all over the place.
When did you discover Psychobilly and first pick up a double bass?

I got into Psychobilly around 1984 through the youth club, King Kurt were on the telly a lot at the time . Some of the older kids at school were listening to The Meteors, Sting-rays and the Guana Batz so everyone was eventually getting exposed to the more underground Psychobilly sound through them.
Where did you get your first bass and who's playing influenced you?

I bought my first bass from Mark Pennington from the Caravans in Portsmouth after saving up my YTS money in around 1987. Mark Carew and Steve Whitehouse were a big influence on me at the time as the slap bass was very dominant in their respective bands. Gaz Day from the Flintstones always had a great sound and style too.
What was your first band and did you release anything?

My first band was a Southampton based band called The Cenobites (before the Dutch band formed). We didn't release anything and didn't even play a proper gig either.
You joined the Klingonz. How did that come about and how many albums are you on?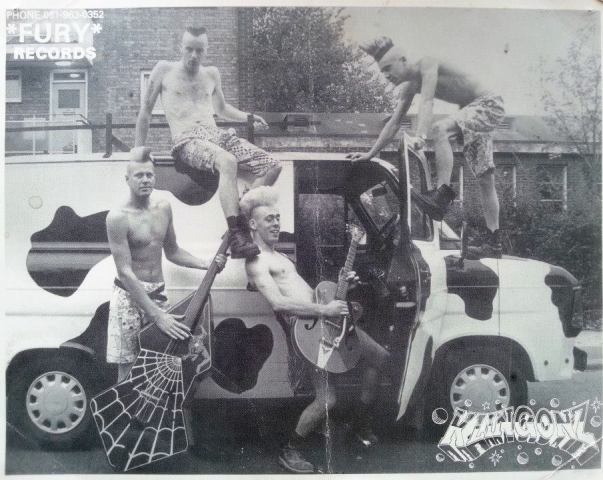 I started knocking around with the Klingonz during the last year of the Klub Foot. Me and another mate from Portsmouth came up to London a lot and was always looking for somewhere to crash, someone introduced me to the Irish boys and they made me feel welcome. There was always something infectious about the Klingonz and the entourage that lived with them in Deptford. I learned to play the bass through Doyley really and the opportunity arose to play with them on a trip to Ireland over x-mas 1989 when Strangy went home to Scotland. A few months later Strangy was ill for a show so I was asked to step in at the last minute. A few months later he left the band and I was in!
I am on three studio albums, one live album and one EP.
Why and when did you leave the Klingz?

I left the Klingonz when the band decided to fold amicably around 1997 after coming back from the U.S. We felt we had taken the band far enough and everyone was keen on doing something different from Psychobilly. We formed a garage band called Looper with the same line up. Eventually the original members of the Klingonz decided to reform and have another go at earth domination.
Then you joined Demented Are Go. How did you get that gig and are you disappointed you only played on one album of theirs?

Klingonz were always supporting DAG over Europe and we all became good mates, a couple of times we actually travelled together in the same bus. Demented Are Go had already been through many musicians, bass players especially. Ant asked me to play when Choppy left, I originally said I'd fill in until they got another bass player. I was there for 2 years. The album I played on was already written, and the studio sessions pending. I had to learn the album as well as the full DAG set. Playing in DAG (as well as the Klingonz) was a great experience, though DAG were struggling to write another album after Hellucifernation as Sparky was becoming more and more difficult to work with. I am happy to only have played on one album.
Tell us about THEE EXIT WOUNDS, a really over looked band in my opinion. Why did it end?

THEE EXIT WOUNDS were a DAG spin off. After the disastrous trip to the US in 2000 to headline the New York Rumble DAG split up. Sparky was in a US prison and the rest of came back to the UK. We did everything we could to keep Sparky from getting into trouble that weekend but he was hellbent on causing trouble, from shoplifting to petty arson. We had had a turbulent time with him already and were ready to continue playing as a band without Sparky and were keen to start afresh with a new singer.
THEE EXIT WOUNDS started with the artist Vince Ray singing and playing rhythm guitar, but his vocal was not the sound we were looking for so we parted company quite early on. We advertised in the loot and an American guy "Johhny X" answered the ad and was living in London and keen to audition. We liked his vocal which was a cross between Lux Interior and Jello Biafra and his writing skills fitted the bill so he was in.
We did a couple of demos and eventually signed to Wolverine Records and released the Bad Day album. We always felt the Psycho scene didn't really accept us due to the DAG split, and in hind sight we were a little heavy on everything sound wise also. We finally fizzled out in 2006 due to Johnny's commitment to his Texas chainsaw travelling picture show and after supporting Frenzy and the Guana Batz at the Islington Academy, we never played in THEE EXIT WOUNDS again.
You must have some funny on the road/in the studio stories to tell/care to share?

There is the old saying "what happens on the road stays on the road" but I'll tell you one from the Klingonz days. We were playing a couple of Euro shows and played in Alkmaar Holland on a Saturday and were due in Moers Germany for the Sunday. After being denied a hotel by the Dutch promoter we threw the bicycle rack and bikes from outside the venue into the nearby canal when they closed the venue, Mocker nearly went in with them. We were split up that night to various concert goers homes and agreed to meet at the venue the next day to continue to Germany. Mick Carroll didn't show and as he spoke German and knew the ropes in Holland too, we thought he'd meet us in Moers. We made it to Germany only to find Mick still in Alkmaar and no way was he going to make the show. We ended up playing probably the worst show ever with a local guitarist (a friend of the promoter) who was well over 50 and only knew dodgy rock n roll tunes. It was a major embarrassment which ended up in arguments and the band exiting the stage one by one leaving the old guy up on his own, playing to the boos from the crowd.
Not our finest moment! but it's all Rock'n'Roll.
And finally what are you up to these days and what does the future hold for you?

Currently I am playing in Hannah Rickard and The Relatives, a Rock'n'Roll band based between Newcastle upon Tyne and London. A band started by Little Lou from The Grit and his talented vocalist and musician cousin Hannah. We have been together about a year and have already played up and down the UK & in Holland and Belgium. We are looking to release a single in June and one in October, and have high hopes of becoming a recognised act throughout Europe and further beyond. Check us out!