(added August 2013)
INTERVIEW WITH CHRIS DAMAGE
(EX- DRUMMER WITH DEMENTED ARE GO!, EXTERNAL MENACE AND MORE)
by John McVicker
How old were you when you first started drumming and who or what inspired you?
I was in my late teens and messing around with Punk music although my musical taste is very wide and varied, as my friends will tell you (It wasn't unusual for me to be in a room full of drunken Punks and Psychobilly's and suddenly put on some Armenian folk music proclaiming it to be the best music on the planet or blast them with some heavy roots reggae). I never really wanted to be involved in drumming it just happened by accident. I don't class myself as a classic drummer more as someone who plays the drums, I'm not really into experimenting with fills and rhythms, I just like to keep a back-beat and let the rest of the band do their shit. I was mainly inspired by people around me at the time guys like Stuie from Goober Patrol, Paddy from Short 'N' Curlies, Andy from Revulsion, Charlie or Meth as he was known from Deviated Instinct and certainly my elder sister who is a multi-instrumentalist and music teacher.
What was your first kit like?
Well I borrowed stuff for the first couple of years but then I managed to buy a kit from Rob Hedge from Braindance. It was a white Remo Rims kit. An unusual design, clip on skins, amazing thudding bass drum sound. I wish I still had it. It was so lightweight that (on advice from Paddy from the Short 'N' Curlies), I actually tied myself to the bass drum using speaker wire so I could anchor the kit in place. Yeah I miss that kit. Can't remember what cymbals I had a the time but they were probably shit.
What was your first band and did they record/ or release anything?
I joined a band that has already been in existence for a few years. They were called Rhetoric. I was one of the singers (there was two). We were crap, but had fun, the band had a couple of tracks on a split EP release before I joined and I recorded a demo with them. It's awful crusty hardcore. John Peel liked us though! The first band I drummed for were Income Support. I wrote a blog about it.
External Menace are in my opinion a very overlooked band. Did you enjoy your time with them and are you on any recordings with them?
External Menace are certainly one of the most overlooked Punk bands from the late 70's early 80's. Jock from GBH told me that EM were a big influence on GBH and Wattie and Wullie form The Exploited both shook my hand when I told them I had drummed for External Menace. Yeah being in EM has given me kudos for sure. Joining them was amazing. To be part of a band with all that history was inspiring. Even though the bands recorded output wasn't prolific and tours and gigs were few and far between, the songs that Sneddy wrote stand the test of time. Pure Punk Rock, not Thrash or Hardcore just great songs, great lyrics and John's voice in my opinion is one of the best in the business. If it hadn't have been for the attempted murder of Welshy in 1998 and subsequent band break up I really think I would have stayed with them for a few years.(If it hadn't have been for that incident my life would have been very different) As it was I did three tours with them playing about 30 gigs or more. I got to play with Billy Dunn (Bass) who was in The Exploited, played on the 'Let's Start A War' LP. We recorded stuff off sound desks etc and there is a couple of videos about somewhere but I didn't record with them. I'm still in regular contact with Welshy and there is slim chance that I may go to the States with them in Nov 2014 if Pommi can't make it.
Before you joined Demented Are Go, had you seen them live and did you own any of their records? How and when did you join DaG! the first time around?
I was well aware of who DaG! were as I was crazy about them back in the 80's. I was 14 when In Sickness & In Health came out and it was a game changer for me. I was into the Klub Foot thing and loved The Cramps and The Meteors. Yeah I was certainly a second wave Psychobilly. I had a friend who knew Mark and Ant and used to go to London and see them. I was very jealous of him. I drifted into Punk in the late 80's and it wasn't really until the late 90's that I rediscovered them. I listened to the Hellucifernation LP and I couldn't believe it was the same band. I know now of course that the whole sound of that LP was due to Stan's involvement but I was blown away and fell in love with them all over again. This is where things start to get a little strange. After the incident in Holland in 1998 when Welshy was nearly murdered I found myself in London, Hackney to be precise. I had friends there and in no time at all was drumming in a band called Zero Tolerance. We had a good following and used to play Hackney alot. Mark lived in Hackney (just around the corner from me as it happened) and used to go to our gigs. He never really spoke to me at those gigs but then one time there was a gig at the Garage in Highbury called 'Punk Aid'. It was an all-dayer and we were on the bill, so were DaG!.
I had got into a bit of bother and been thrown out, Mark had invaded the stage and punched Gene October from Chelsea and was also taking a swing at Glen Matlock backstage for some reason. He was beaten up and thrown out as well. I met him outside and he was in a bit of a mess. I was living on Highbury Hill so took him back to my flat to get him cleaned up. I was into all sorts of things in those days and when we got to mine we found 2 bottles of champagne, several ecstasy pills and a load of weed. That was that really. Zero Tolerance were getting more popular and one city we always went down well was Canterbury. So too did DaG! and one day my phone rang, it was Mark, he wanted Zero Tolerance to support DaG! in Canterbury. This was October 1999 a few days before DaG! went to New Jersey and imploded. The gig in Canterbury was special. Mark was on fine form and the whole night was awesome. When I next saw Mark a few months later all that had changed. DaG! had left him in the States, left him full stop. We were hanging out together a lot at this point (early 2000) doing vast quantities of things we shouldn't. Zero Tolerance started to wind down when Simon the guitarist was offered a place in the UK Subs and I was kicking my heels. Mark suggested that I have a jam with him and Lex so we went to a ramshackle rehearsal room in Dalston and the result of that 1st jam was Destruction Boy. We jammed a few times then Mark asked if I wanted to help him get DaG! back on the road. Little did I know how much this would change my life...
Were you pleased with Hellbilly Storm album?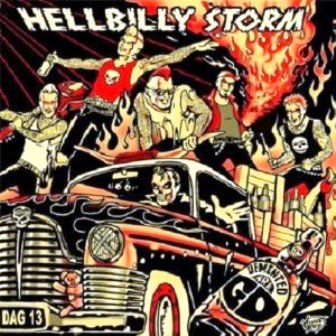 I cringe when I listen to Hellbilly Storm. Not because I hate it, no, because of what happened with the mixing and everything. My entire drum track was put onto pro tools and dissected to the point where there are some parts that I haven't even played. It was generated on the computer! None of us were present when Lippy did this, he took TWO WEEKS and was charging us by the day, he was fleecing us I don't mind my opinion being on record. Lippy fleeced us to the tune of £14,000 for that sack of shit. On the last recording I was scheduled to do 5 days recording for drums, Including one day setting up and sound checking. I did 3.5 days drumming and Tim mixed me and corrected any gaffs as we we were doing it and it was all done no fucking about no cut and paste, no triggers less than £5000 for the last LP. Perfect. RIP Tim thanks for all the advice.
You replaced Ant Thomas. Then he replaced you before you rejoined do you know each other and why did you leave first time ?
We know each other, have met. I don't have much to say about it, I don't think he really likes me very much but I don't care.
What's your favourite Demented track you play live and what's your favourite country to play in?
I used to have a list of songs we played in my diary, there was over 50 at one point maybe even 70! It really depended on the guitarist. Grandma Under the Stairs was always a fave. With Lex it was probably Brand New Corpse. I used to love the way Doyley played Stake in the Heart. With Doyley and Stan it was probably Sickness of Truth and Holger was Heads on Poles. I have total respect for all the guys I played with. I like all countries. No faves. OK then Japan was good !
Do use one tattooist and has Strangy ever inked you?
I've been involved in tattooing since I was 12! Lot's of people have worked on me. I am now associated with Jon (who is in the process of finishing my body suit) and Enzo at Black Dog Tattoos in Norwich. Jon is and old friend who, fortunately for me has become a master of his trade. I don't really pay for tattoos anymore. Fortunately a lot of tattooists have respect for people like me who have spent a lifetime under the needle, that's how it should be.
No, Strangy hasn't worked on me but I think he's a good artist and wish him the best in his career.
Why have you left again after the brilliant new album Welcome Back To Insanity Hall and any idea what Lex, Stan, Klump and Ant are up to these days?
I came back for 2 years and while things were good I was happy, I was playing the best drums of my life and enjoying it but I have a complex home life. My 8 y/o son Charlie is Autistic and I also have a 5 year old daughter, Ari. It was hard for our family to cope with me being away from home and my health was suffering. In early January I fell ill. I just couldn't get out of bed for days. The band had to get a replacement for a couple of shows but I got my act together and went out to Italy late January. I had given up drinking and drugs by this point, and was happy about it (still am) but something just wasn't right. I loved playing the gigs but I kept feeling that something wasn't right. I was tired of travelling too. It can be very lonely on the road and I'd had enough. I even turned down the chance to go to South America. I'm a stubborn ole fool. When I make my mind up that's it. I have a lot of respect for Mark, love him like a brother and wish him and the band well. I talk to Doyley alot, have been in touch with Lex recently and we are going to get together and jam sometime. I speak to Stan on occasion and we are friends. I know that Stan, Eddie and Ant still jam together. I haven't the foggiest what Klump is up to. But I am in touch with some ex members such as Graeme Grant and Simon Cohen.
A book about Demented Are Go is in production. I, along with many others have contributed. So watch this space.. I don't really want to discuss the last LP apart from to say that I like it and am proud of my work on it.
Finally tell us about PMT, your charity. What else your up to and are there gonna be any more Demented Ramblings add I know lots of people who are waiting.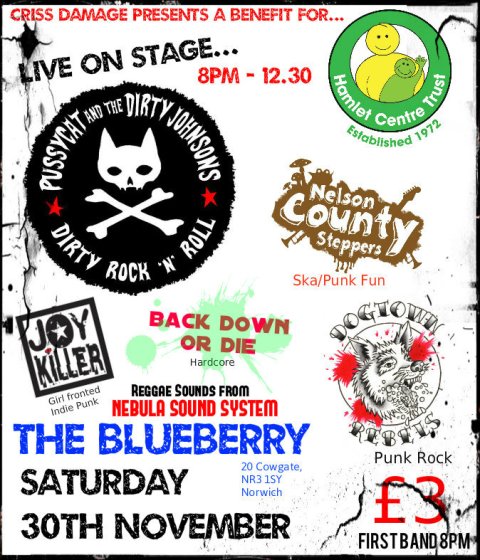 The thing with PMT came about because their drummer just didn't want to do it anymore. PMT aren't a serious project. I helped them out back in 1996 for a few gigs and I was in Zero Tolerance with Clara the bassist so I said I would play on a recording for them. It was fun, we are only a 3 piece me, Spu and Clara, were playing in January but that's about it. I recorded my drums in less than an hour. I used 1 cymbal, snare, bass drum and floor tom that was it! The songs are all about who the girls (Clara and Spu) wanted to shag or who wanted to shag them etc...
As I mentioned earlier my son has Autism and uses a special centre for disabled kids called the Hamlet Centre here in Norwich. The Hamlet Centre is totally self funded and relies on donations to survive. They give my family much needed support and respite so I thought I would try to raise some money for them. I spoke to the landlord of my local (The Blueberry) about this and explained to him about my musical past. (no-one in my local really knows about my music or bands, that's the way I like it) I said I had a plan to get some of the bands I know to play cut price shows for me and the proceeds were going to charity. I have 2 organised at the moment. The first show is on Nov 30th and features Pussycat And The Dirty Johnsons with 4 local acts supporting and a reggae sound system. The second will be on Jan 25th and will feature my all time favourite band and good mates P.A.I.N and PMT. Other bands in the pipeline are External Menace and The PUKES. I'd like to get the Hillbilly Moon Explosion to play but that will take some work.
I am also working in Black Dog Tattoos and will be doing laser tattoo removal from there soon. As for music? who knows what's next. Maybe Lex and I will get some stuff together but I won't hold my breath...
I intend to write more ramblings but sometimes finding the time or inspiration is tricky. I have had a lot of positive feedback about them. I was always good at telling tall stories so I thought why not write some down. I will be writing about my time on the road with Ex Cathedra in the mid 90's next then more DaG! tales.
Are they true? You have to make up your own mind.
Thanks for the interview Johnny. If you can be arsed to check out my ramblings, thanks. If you can support my shows in any way, double thanks with a cherry on top.