Coffin Nails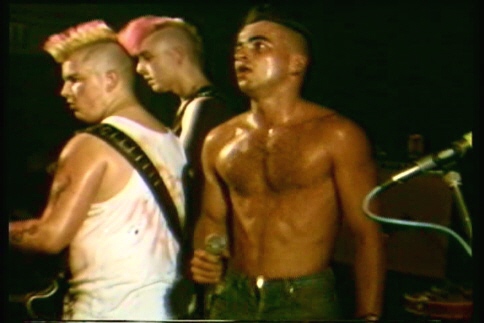 The Coffin Nails were originally formed in the second half of 1985 by Toby "Juggy " Griffin (d), Graham " Gra " Farr (b), Tony Szajer (v) and Steve (g/v), who's also better known as Humungus. After just a month of rehearsals the band supported the Sting-rays in Reading, which is also known as the hometown of the Coffin Nails. Soon the band was offered a gig at the Klub Foot and released the track Plymouth Fury on the compilation album Zorch Factor 1. After some fill-ins stints with the kings of Psychobilly Toby Griffin decided to join The Meteors as their permanent drummer and had to been replaced by Dave Ward. The next loss from the band was when lead singer Tony announced his retirement for private reasons. Dave Ward took over the vocal duties and the band acquired a new drummer in Smurf. In late 1987 the band released their first album Ein Bier Bitte, followed by a tour all over mainland Europe to promote the longplayer.
The untimely departure of Dave Ward in 1988 marks a big turning point in the history of the band. Humungus took over as singer and the band continued to play as a trio. The mates signed a deal with Link Records and the 2nd album A Fistful Of Burgers was recorded and released. The next big change came the following year, when Gra decided to leave too and was replaced by a young double bass player, named Scott Milsom. The addition of a slap bass also gave the band a more rockin' sound. Another lineup change brought in Nasser Bouzida (d) from the popular Ska outfit The Loafers and led to their fourth album Who´s He? in 1991 , before the band optioned for a break in 1993 which would eventually last 3 years. Since their reunion in 1996 the band has released three more albums.
The Coffin Nails combine a a wide range of musical influences that led to a versatile mix of styles yet all with the Coffin Nails unique trademarks of high energy and humour. The band gained fame from the very start and has always been one of the scene's best loved bands. Since 2001 Clive Cornwall (d) has joined Humungus and Scott Milsom to be a permanent part of the band.
Discography:
Singles: n/a
Albums: Ein Bier Bitte (1987)--A Fistful Of Burgers(1988)--Live & Rockin´(1990)--Who´s He?(1991)--Wreckers Yard(1997)--A Big Night Out(1998)--Out For The Weekend(2002)--Hard As Nails(2003)--Gravest Hits(2004)-- The Dead Don't Get Older (2009)
[ Home ] [ TORMENT TRIBUTE ] [ PSYCHO NEWS ] [ GIGS, FESTIVALS,TOUR DATES ] [ UPDATES ] [ THE BANDS ] [ THE RECORDINGS ] [ INTERVIEWS ] [ LYRIX ] [ LINX/CONTACT ]