(added December 2012; it originally was held in fall 2011 and intended to be issued on Psychomania fanzine #9 )
INTERVIEW WITH CHUCK HARVEY
( MAIN MAN OF THE FRANTIC FLINSTONES AND PSYCHOBILLY CHARACTER)
by wildhank
What was the soundtrack of your teenage days and is it true that you first became aware of Psychobilly after attending a football game?
I grew up listing to Rock'n'Roll n some Country from my Ma'n'Pa. Pa was a Ted back in da day. I as a kid of course liked Glam Sweet-Slade-T-Rex etc. Then got into da Punk ding when it exploded, at da time I was going up to see West Ham on a reguler basis...and kinda developed in to da Oi scene - skins with Cockney Rejects etc.-and yea comming back from football I noticed these quiffs on da underground. So I dug deeper and found Psychobilly.... never looked back.
It's read that you were involved in a few projects prior to the FRANTIC FLINTSTONES. So why did you decide to form yet another band, is there a special story behind the band name and how did you get the first deal with Raucous Records?
Well I was in a band called MUTE in my punk days, I was playing e-bass, not very gut, but was writing da text. The singer nerved me, I knew I could do better...so he went, and I sang.
When MUTE ended I carried on writing and the odd jam, about da time I discovered Psychobilly, I had started a band called WHATS THIS FISH ? We were mainly Punk'n'Trash,Surf-ish, but I wanted to go more Psycho. So after a few shows, which I must say were fuckin' mental we splitt.
I joined forces with Toby 'Jug' Griffin , Mike and Sac, we started rehearsing at da cemetery rooms in Reading.
Now da name came about because Toby wanted THE FLINTSTONES and I wanted FRANTIC.
As for the first EP. we just sent Howard a tape, and he said OK Any band that's played the Klub Foot several ,although just as first or second on interested him. Bedrock is still his best selling EP. The first 1,000 with yellow pic cover are going for big dollar kids.
Have you been keeping track with the number of musicians involved in the history of the band? Any clue how many bass players, guitar twangers and drummers have been members of the FF over the years and what line-up did you enjoy the most?
Haha --Yes for some years I noted da FF changes, but it got way too much, for my brain.
Many many muhs have passed through da FF acadamy, as for a fav line up, well there have been many. Top muh was Pug-Gaz-Rich many moons ago. We have also had some not so muh line ups and players.
I have worked with many top guitar twangers n bass slappers- tooo many to name-. My fav line up is now Manny - Pucker - Benny. These boys are fuckin rockin' and have got what it takes to muh da FF muh.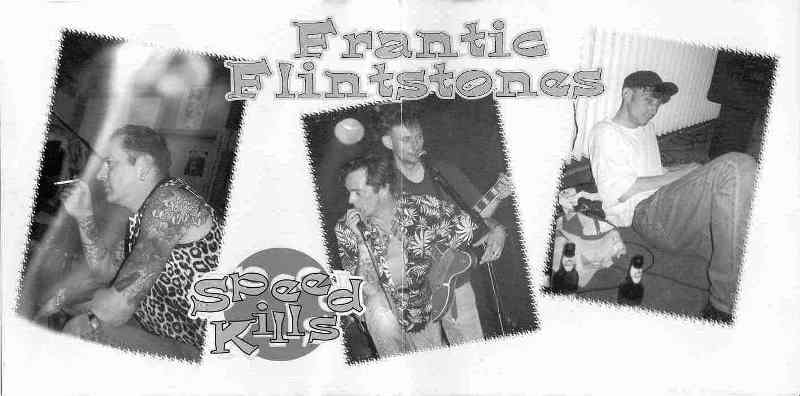 The Flintstones story and your personal life has not only been afflicted with line-up changes but also with prison time, intensive care and a car crash as far as I know. What was the worst moment in your life and have you ever been thinking about slowing things down or even quitting music biz?
Well it's been a Rock'n'Roll rola-coaster to say da least. The heart attack was a fucker for sure, prison detox-rehabs really fuckin nerve me, three marriages, a hat full of kids n grand children---gypsy around and rollin da dice, but when da lung went down, that was really touch'n'go.
50 - 50 to come out of da surgery...strange muh. That did freak me a bit, I turned to god but only for 24 hours.
Then I went back to da devil n Rock'n'Roll. I ain't never gunna stop. This boy is on a mission!
By da way its NO SMOKING in da FF dressing room---Bogota snow is allowed.
The FRANTIC FLINTSTONES one is without doubt one of the most popular and most successful stories in Psychobilly history. I think that your unique approach has something to do with it and you were arguably the first one who dared to throw some other stuff like Ska, Folk, C&W, Gospel, traditional music frequently into the mix, often re-writing the lyrics- at least a little bit- on classics like Shake Your Moneymaker, Madness, Boppin' The Blues, Piece In The Valley to name but a few. How did that come about and have you ever felt something like a musical restriction or that something is a no-go?
I think that's one of da special things about da FF...He who dares!!!! I was always interested in mixing it up, just like one of my heroes The Clash. I also think da FF are the only ones who get away with it, because its done well.
Most bands that record a album, I kinda no before its out what it will sound like--but with da FF its always a surprise...hate us or love us--I don't care, but at least we ain't got tunnel vision and knock out gut music..and put a lot of influences into it.
Of course we ain't gunna do no Death Metal or Goth--ya no what I mean. I am not so fuckin wired. Its gotta muh in a FF way— ahoi!
Many lyrics of Frantic Flintstones originals are about 'drugs'n'booze' or 'mental defects'. Do you have a soft spot for these themes and how do you usually get these songs together?
Hahaha... mmmm??? When I am weird, when I am drunk, and when I am in hospital.....that's da method. It works perfect for me...
'Cut me out a line and feel fine, to help me through these dark dark times'.
After recording the classic 'Nightmare On Nervous' for Roy Williams, the FRANTIC FLINSTONES joined Link Records and you were also signed by the label as some sort of a scout and A&R man. How did your involvement with Link Records come about and what exactly was your job?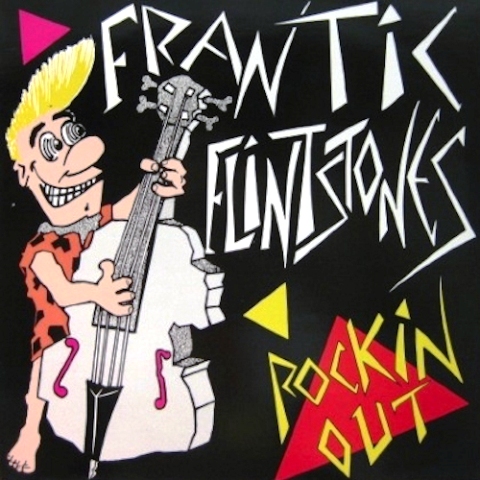 Well after we finished Nightmare On Nervous, we kinda had da recording bug. Roy wanted to wait , in are eyes too long befor da next FF platter. I rang up Link, and they invited me up to there office for a chat.
What came out of that was da Rockin' Out album and a job to get bands in are studio we were using in Bracknell and record them. Also buying old releases etc. Was gut dollar, lots of fun and I got on well with Mark'n'Lol. Was a cool time man.
Which albums that were released under the ' Chuck Flintstone presents... ' label are you most proud of and any dislikes?
I cant remember all da releases but I think around 35 - 40 albums. And then of course made to CD and licensed. Rockin Out is Link's best selling Psycho album. Me personally liked da FF albums , they all had something at da time. Also Demon Teds, Termites, Sugar Puffs, Coffin Nails.
There were also some real shit ones, we could not give the fuckers away. I laugh sometimes, when a band/s get back together and try'n' say there Link release was a top seller bla bla bla...I got da sales statements a no da truth. I could name several bands -but I wont -they no them selves who they are.
Let sleeping dogs lie - they were shit then, and are shit now - there was a reason why ya split up, and did not sell. Muh !
You were also trying to get your own record label going in the very early 1990's. Tell us the story of Chuckee Dee Records?
Ah ha. Da Chuckee Dee Records was started from drug money, from da local Didcot posse. I was freinds with Mark'n'Bowler, so we decided to release a album, No Excuses, later to be released on CD by Howard at Raucous. Funny really after it was released, there was some local drug wars going down in Didcot/Oxford---and El Cha Cha was ?? you guest it in prison on drug charges...haha...the old days. Still brings a smile to my face.
Let's hark back to the story of the FRANTIC FLINTSTONES. Your output over the last twenty-five years is hard to keep up with. Anyway what are your favourite FRANTIC FLINSTONES albums and why ?
Ok--mmm ya..lets see " Nightmare On Nervous"- because it was da first ; "Rockin' Out"- because it does rock out and was da best selling FF album ; "The Nightmare Continues"- because it was done in a day, completely fuckin bright. " Cuttin A Fine Line"-top rockin tunes ; " Jamboree"-was a blast doin that with Wilson'n'Co, many top storys from those sessions ; " C4A"- a gut punch in da face album ; " Psycho Samba " - recorded in Brazil over 6 months, many many great memorys from that land and my freinds there, was cool to record that album.
Some FF albums have been stronger than others , but I like something from them all, I will talk about da latest FF album later. Ahoi!
You told the interviewer in the documentary on the 'Frantic Flintstones Story' DVD that you want to make more CDs than Elvis. So how many are left?
Ah ha. Yea there is a lot of muh left in me/FF . We will/me be releasing all da time baby. This ain't finished yet....not till da old lady sings!
One more album was released in 2012. How do you feel about it?
Da new album was released on Drunkabilly Jan(uary) 2012. " FREAKED OUT & PSYCHED OUT"
FUCKIN MENTAL ALBUM. WILL GO DOWN AS A CLASSIC FF . Its kinda Nightmare On Nervous meets Rockin' Out.
We really really proud of it, the posse will groove and take even more drugs. No ones sanity is safe. FF has also been touring starting in Jan(uary) of course..Its fuckin world wide and we gunna dominate & raise hell über all.
The band has built a strong and world-wide following over the years, widely known as the 'Muh Posse'. So what's the muh with this muh?
Well muh started in '92 in Siegen, Germany during a FF tour, we had some days off, and we would crash'n'party at are freinds in Siegen.
We always had a gut posse with us, just no name, well anyway we were all totally fuckin high'n'tripping, and was listening to Cypress Hills first album. Well anyway during one of there songs someone goes muuuuuhhhhh. We all kinda heard it at da same time, and Ralph also muhed, its a easy way to cominecate with out many words, you got use da muh in da right contex.
Some people just cant get it, or muh---you either can muh or not---no half way muhers...we got FF MUH POSSES ALL OVER DA WORLD, who look for us and party with us...the FFnet work is huge, with connections every where. May da muh be with ya.
You were also involved in two side projects, entitled CHUCK & THE HULAS and CHUCK & THE CRACK-PIPES respectively and you're currently working on a third one. So what's that CHUCK & THE PINK FLAMINGOS thingy all about and will there be any non-FF releases in the near future?
CHUCK & THE PINK FLAMINGOS is a Berlin bassed side project featuring Tex Morton - guitar , Andy Laaf - drums , Lush Lloyd- double bass and of course El Cha Cha Chuckers – vox.
We only play a hand full of shows, we done Finland and Germany. Me and Tex have written a whole album of material, of which da half is recorded, at da famous w@h studios Berlin. A seven inch ltd. vinyl EP has been released and shows will follow to promote it.
Tracks include "Lean Woman" - " Suicide " - "Hasenheide Blues" - " Potsdam" - " Wine ". Later there will be a full album released, but its not so easy because we all are very busy with are main bands FF / MAD SIN / K.QUEENS. Da music is DRUG INDUCED COUNTRY.
One more question left. It's widely known that you are passionate about working in the kitchen. When and how did you become interested in having a good meal and what's your favourite food?
Yea I love cooking dat for sure, I am pretty gut aswell.
I learned when I was in a kids home, and then later from books and from gatthering tips from all over da world. As for a fav food its to hard to say one a dish. I love gut food in general, love to eat da local dishes when we on tour/holiday... and food also comes to what mood ya in .
Here are a few ,just a few things I love to eat/cook -beef-lamb-duck-shrimps-sea food-indian-roast dinners-spargel-kurbis the fuckin list is endless. I love cooking for freinds at home or hitting gut resturants I am a food fan...Muh!
Some last words. A big muh to all da posse out there,thanks for da support and mad fuckin times...top retards..hope to see as many as possible next year on da " URABAN PENNERS DELUX " TOUR 2013... and meet new muhs. FF fans are a step higher than others........ a class fuckin A . Chuck Harvey MUH.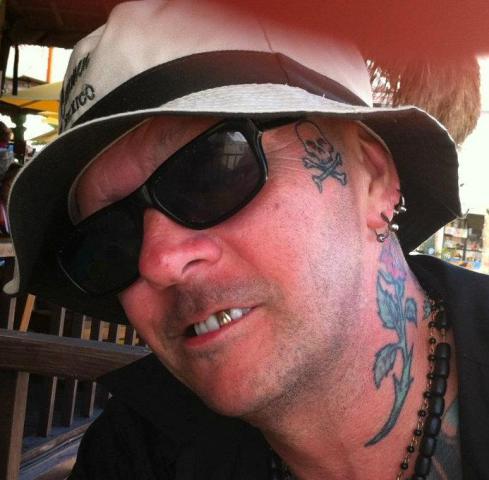 FRANTIC FLINTSTONES ON FACEBOOK