INTERVIEW WITH CHRIS MUNDIE
(DRUMMER WITH THE BUSINESS, HYPERJAX AND THE REDNECK ZOMBIES)
(added May 2016)
by John McVicker
Tell us a bit about yourself. Where and when you were born and grew up?
I was born in Winsford, Cheshire, I spent some time living in Stafford and Manchester before moving back to Cheshire. Myself, I now reside in Northwich, which as everybody knows is the cultural hub of the UK.
When did you first become interested in playing the drums?
I started drumming at a pretty early age, a friend of mine gave me a toy kit when I was about 10 years old and it went from there, my debut performance was in primary school playing the part of Ringo Starr in a school assembly, my mum bought me a charity shop suit and 'tailored' the collar to give me the authentic early Beatles look.
Tell us about your first kit and your first band.
After cutting my teeth on the toy kit I got my first proper kit one Christmas, a wine red Hohner, very much a budget kit, but it was full size and I could play it properly without bits falling off.
Aside from the obligatory bedroom covers the first proper band I was in started in school, we went through a few line up changes and a few questionable names before becoming The Short-Cuts. This was my main focus in life for a lot of years, we did a couple of small UK tours and put out a full length and an EP, style wise we changed a bit over time, but we were for the most part a melodic punk rock band. I still listen to the stuff we did and I really like it, but it's fair to say we didn't really find an audience, you can still buy the CDs on eBay last time I checked, I also have a few boxes of them left in my parents loft. (Search YouTube for The Short-Cuts- 'Doesn't Matter' if you want to see the video)
Do you remember the first recordings?
The first recording we ever made was in the singer's living room on a friends four track, I don't think they ever saw the light of day, we also experimented with various tape players with built in mics, they gave that earthy, low end, muddy production you just can't get from a professional studio.
After a while we wanted to get better than the 'live in a bin' sound, but as teenagers we didn't like the idea of paying for studio time, looking back I think we probably found it a bit intimidating, what if we messed it up on the day and wasted the money? Plus we'd only be able to record a couple of tracks and we had loads of songs sat there ready to change the world, how could you choose, right?
So eventually my best friend and Short-Cuts guitarist took the leap and invested in a digital multi track. This is what we did our first proper recordings with, he then progressed to renting out an old ICI office and on a very tight budget we transformed it into a rehearsal space/studio. Well over a decade on, the building is still being used as a studio, although its changed hands a number of times over the years, I guess that's the legacy our band left, even though I don't think anybody involved in it now would even remember us.
How did you come to join the Hyperjax?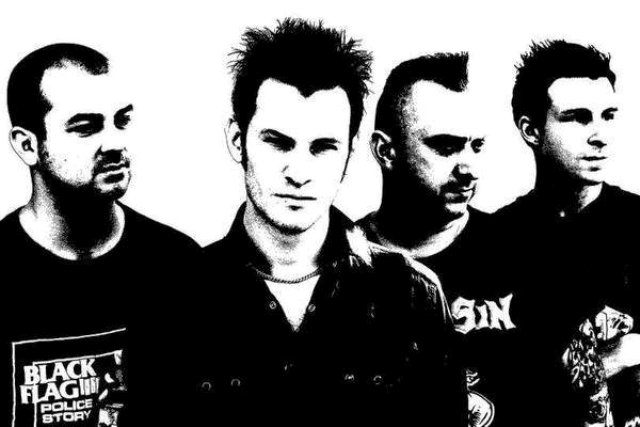 The Short-Cuts were starting to wind down, our singer had gone travelling and as much as I didn't want to accept it we had pretty much run our course.
We had been playing with The Hyperjax since the days of Captain Fido, but had become good friends with them around the time of Generation X Rated, we used to play a lot at a now defunct club in Crewe called The Limelight, at this point I'd never seen a punk rock band with a double bass, so imagine my 17 year old surprise when Bob explained to me there was an entire scene called Psychobilly. He invited us to Leicester where there was a festival going on at The Charlotte, I had recently passed my driving licence so myself and our singer, Sam, hit the road and went to see what it was all about.
On it became obvious that this was a much bigger scene then we had thought, in fact we were the only people there who didn't look the part, it was a bit like the bit in Dusk Till Dawn, when everyone in the bar transforms. To say it was an eye opener was an understatement, so we started nervously looking round for a member of The Hyperjax, at this point we were accosted by what looked to be a retarded hillbilly, he had long hair, thick rimmed glasses, the worst teeth you could imagine and a pair of oversized dungarees. The guy wouldn't leave us alone, he kept saying weird stuff and every time we tried to get passed him he'd move to block our way, It was hard to work out whether he wanted to fuck us or fight us, I looked at our singer and thought, 'well, if he's going to fuck anyone it'll probably be him', but not wanting to have to deal with a possible 'Indecent Proposal' situation we pushed passed to get away from the weirdo, at this point the weirdo took off his glasses and pulled out his teeth, what lay underneath was Sam Woods in a wig, he'd obviously decided it would be funny to fuck with us, which in fairness it was. At this point I didn't know he'd be a guy I'd go on to affectionately know as 'Dick Eyes'.
Anyway I've digressed, we'd played a lot of gigs with The Hyperjax, it was always fun and there was always something exciting, weird, or worrying going on, they were a proper Rock 'n' Roll band, our guitarist Matt joined the band to play second guitar, so I found myself going to more and more Hyperjax gigs, when Wally decided it was time to hang up his sticks (for the first time) the band asked me if I'd like to join, I immediately said yes. This led to two years of insanity, I played my first foreign gigs, found myself in enough weird and not necessarily wonderful situations to fill a book and had a really good time with three guys, who to this day I still consider as some of my best friends.
What albums were you on and why did you leave?
I played on the second album, The Bottom Line, this is when I first met Fish, he was producing the album for us and we became good friends, he was playing in a band at the time called Section 5, they were heading to Belgrade to play with The Last Resort, but their drummer was unavailable. So off I went into the world of Oi!
At this point Tosh from Section 5 had just joined The Business, as it happened they were also in the market for a new drummer. I got a call from Micky Fitz asking if I'd be up for doing a short European and US Tour, this was pretty unbelievable, so of course I said yes. These tours led to me becoming the permanent drummer, at first I tried to do both bands, but it pretty soon became clear that The Business schedule would mean that I wouldn't be able to do The Hyperjax anymore, it was actually a tough decision to make, but I couldn't turn down the opportunity, so that's when we parted ways.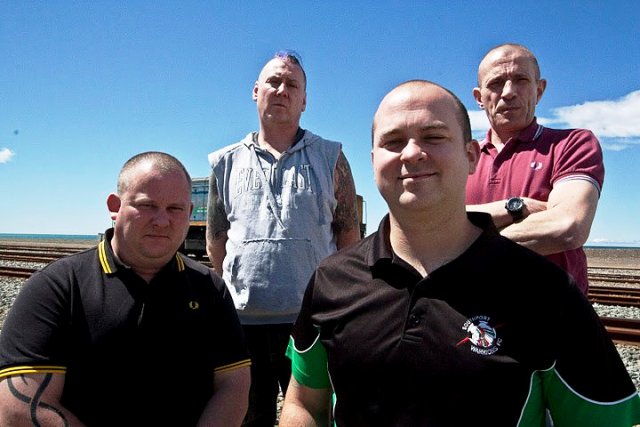 How and when did the Redneck Zombies get together? Are there any releases?
The Redneck Zombies have been an ongoing thing since 2000, so we are 16 years old as a band, I wanted to do something other than drums, so I borrowed a bass, Bevan fancied a crack at guitar as opposed to bass and Jay was up for it when we said 'do you want to play in a fast punk band that sings about killing people?'.
We've done a few DIY releases over the years, we're also on a few compilations, we still play, roughly once a year and never very far from Northwich. When we started the band our ambition was to one day open for The Queers, we finally achieved that goal in 2011. So now we carry on, we have no direction, purpose or ambition, so in many ways we have become the zombies we once pretended to be, profound right? (Search Redneck Zombies 'OK', if you want to see a video)
What is your favourite place to play live? U.K. or abroad?
I sent my passport for renewal a couple of months back, I've had it pretty much for the 10 years I've been in The Business, I counted 54 non EU stamps, over 5 continents. It's pretty hard to pick favourites, some of my favourite memories are from the early days, the gigs that could be anything and you wouldn't know till you turned up, sometimes after driving the length of the country, a particular Hyperjax trip to the south coast springs to mind, but that's an essay on it's own.
I have done some really amazing stuff with The Business though, last years Punk Rock Bowling was a recent highlight, I've played some great festivals in castles and forts, industrial factories and on lakes. We've played on a boat as it circled the Statue of Liberty. Amongst that we've also played some places a lot of other bands are yet to go, I think we were the first Oi band to play in Chile, we've played South Korea, Singapore and Bangkok. Basically I've seen the world by playing drums.
Probably the best thing though is seeing people in the scene throughout the world, by the scene I mean everything, Punk, Oi, Psychobilly, Hardcore, Ska and everything else that goes with it. It might not always be huge thing, but everywhere you go you will find it, we exist in every corner of the globe, to me that is pretty reassuring.
Do you still have a day job? What do you do for a living ?
Obviously nobody gets rich being in a band, so I also work for a Brewery, if you see a van driving round with Tatton Brewery written on it, chances are I'm in the driving seat.
What does the future hold?
More of the same, I think I'm now what is considered a lifer.