(added February 2012)
INTERVIEW WITH CHRIS HAWKES
(ORIGINAL DRUMMER WITH THE POLECATS)
by John McVicker
How old were you when you first learnt to drum,what was your first kit like and when did you meet the rest of The Polecats?
I've known Tim ( ED. Worman aka Polecat) since we were little kids, we grew up together and shared a lot of interests including music. Tim and Boz ( ED. Boorer) were old friends and I became friends with Boz at about the age of 13. Boz has always been a talented musician which influenced Tim and eventually there was talk of putting a band together. Boz was at school with Phil (ED. Bloomberg) who played electric bass and had learned cello as a kid. So that was three members sorted out all they needed was a drummer. As we were all mates by this time it just seemed obvious that I should drum. I went out and bought a crappy drum kit from an add in the local paper and we were ready to go!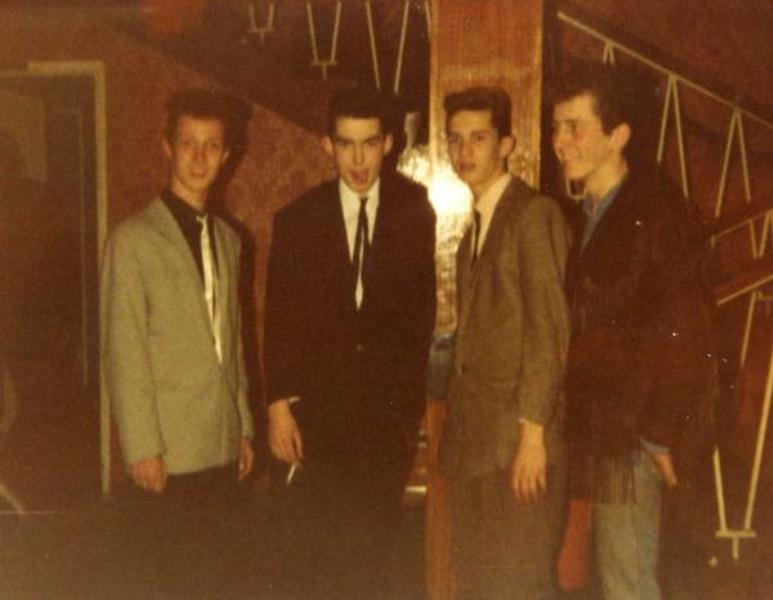 Tell us about the musical influences?
This was around 1977-78 and the Punk thing was taking off and of course had an influence on all of us but our first love was Rock 'n' Roll and Rockabilly. The mid seventies saw a big revival of the Teddy Boy scene, which my oldest brother was heavily involved in. He had various fairly obscure rockin' records around and also knew the clubs that were going at the time. So at the young age of 13/14 we ventured into our first Rock 'n' Roll clubs.
At the time the top bands around the scene, Flying Saucers, Crazy Cavan, Riot Rockers etc, were all in their thirties which seemed like old men to us!



How did you get things going? Did you do any writing, recording with them?

We started out with the name 'Cult Heroes' and didn't stick to just Rockabilly. We'd play anything that we fancied but soon decided to play just Rockin' stuff.
The next step was to record a few tracks as a way of promoting ourselves and hopefully getting some gigs. A local recording studio was found and we went in to record four original tracks including Rockabilly Guy, written and sung by Phil and Chicken Shack written and sung by Boz. These were put onto cassette tape and we would push them at anyone we thought might be able to get us a gig. During this time we realised Cult Heroes wasn't a suitable name for a Rockabilly band and after a few suggestions I came up with the name The Polecats.
At the time we were regulars at a club called The Royalty, in Southgate, London. We took the cassette up to the DJ's, Roy & Stuart, known as 'Wild Wax' hoping they would have a listen....
They loved it! Not only did we get to play at The Royalty (a huge gig for us at the time) but Wild Wax decided to start up their own label, 'Nervous Records', with The Polecats as their first release.
At the time all the Rock 'n' Roll bands were using electric bass barring a very few. Phil decided the way to go was a double bass and having some experience with the cello took to it like a duck to water. We'd seen Levi and The Rockats, a young band who were a big influence on us with their lively stage presence and slap bass. After that Tim started to take pride of place as the front man with Boz and Phil sticking to mainly playing.
Things were starting to happen with bigger gigs and some interest from larger labels.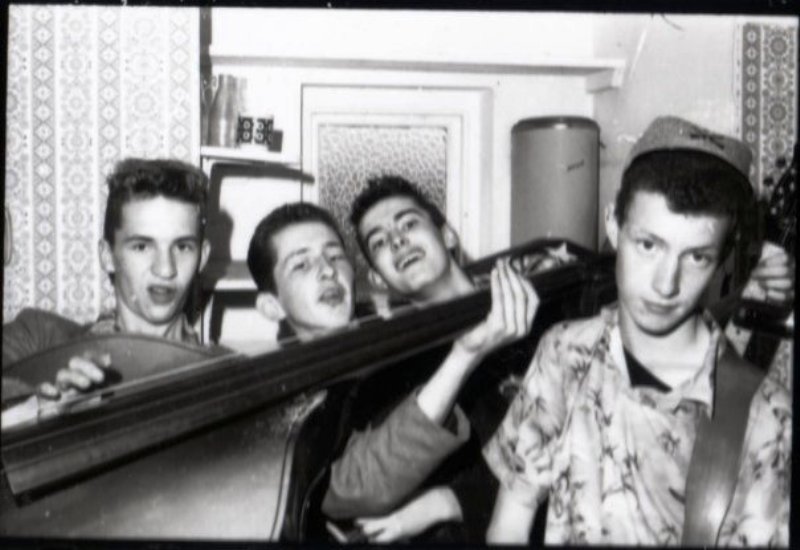 Why and when did you leave ? What did you do next band-wise?
Unfortunately I was never much of a drummer and the days of us just being a crowd of mates enjoying ourselves were fading. The band was on the up and my drumming wasn't! It was a mutual agreement that I left the band and they found a new drummer. Sad as I was to go it was the right decision for The Polecats as they then started to break big time. I sold my drum kit and bought an old Ford Consul (my first car) with the money, never to return to drumming. At the age of 17 I had done a lot and felt I'd been part of a huge change in the rockin' scene. As the years go on I feel more and more proud of being part of the birth of modern Rockabilly music in this country and the world over!
Did you follow their career after and do you ever see any of them today ?
I lost touch with the band as they were touring and recording and I had my own life to get on with. In more recent years we have been back in touch and I still consider them all as good friends.
How did you get into tattooing ? How long have you had your studio ?
I laboured on building sites and did various shitty jobs until I ended up working as a carpenter but was never really settled and always wanted to do something with my artistic abilities. At the age of 22 I had started to learn to tattoo but the guy that was teaching me died in a motorbike accident so I went back to the building sites. In my late thirties after raising my kids I decided to go out on a limb and do what I really wanted to do! I bummed around a couple of tattoo studios and eventually learned to tattoo. This went from strength to strength and I now own my own studio called Buzz Tattoo in West Sussex where I've lived for the past 18years.