(added May 2008)
INTERVIEW WITH CESAR
( GUITARERRO AND LEAD SINGER OF THE RIFF-RAFFS )
made by Wildhank
How and when did you get into Psychobilly? What are your main musical influences?
All three of us had friends who already listened to it, we got curious and listened to their records. It just took off from there, going to local shows and eventually reaching back and discovering the really, really great old-school stuff. Influences? Definitely rockabilly and rock&roll in general, but also punk and popular 80s stuff. Iím a devout Oingo Boingo and Devo fan, but top psychobilly influences have to be The Krewmen with Mark Cole, Wigsville Spliffs, Griswalds, oh and more Krewmen!
I guess that some of our readers donīt have a clue about The Riff-Raffs. When and how was the band formed? Please introduce the band members.
The Riff-Raffs have been playing since November 2007, its Sal on the upright bass and backup vocals, Cj on drums and backup vocals, and me (Cesar) on guitar and lead vocals. Cj and I had been in a previous band that was just a dramatic, miss-guided mess! We met Sal after our front man had cancelled a backyard gig, we knew Salís sister who recommended her brother fill in. So we rehearsed for four or five hours and played a HORRIBLE but fun set. We kept in touch and jammed a bit whenever our front man decided not to show up for practice. The band split in November and we knew just the man to call! I took over vocals and we completely changed our psychobilly direction.
Who came up with the band name? Is there a special story about it?
Well, we practiced for about two weeks in November and played two bar gigs with no name, we just couldnít think of one. Even the bar regulars were trying to name us, The Flaming Clancys, The Walrus, all kinds of random stuff. It was late November and we wanted to start a myspace page and get the ball rolling, so we all met one morning and just started yelling craploads of names, one after the other. I had recently seen Aladdin, and thereís a song at the very beginning of the film were they the guards call him a riff-raff, so it poured out of my mouth and for some reason it stuck. We were ready to settle for anything by that time. Ha, wish our story was a little tougher than that!
A bunch of new, young Psychobilly outfits- Bamboula, The Tabaltix, The Curs and of course your own band to name a few- have emerged from the rockinī grounds of California lately. It seems to me that a lots of good things happen here in the south west of the United States. Please tell us little bit more about the current rockin' scene in California.
Yeah, the scene has definitely been changing the lately, with bands like the ones you mentioned coming out. We think its great and were glad to be a part of it. There are definitely plenty of great so-cal bands with the heavier psychobilly sound and this change makes the shows more enjoyable. Your gonna see all kinds of different styles on one night, and its all psychobilly. The lack of all age shows is very irritating though, a lot of these bands are very young, and so are their fans. Most shows are 21+, the crowd and atmosphere always seems too serious and half the time we get kicked out after we play. But besides that, itís great.
Let's finally talk about your music. Unlike many of the new bands, who prefer the more punkier way of rocking, the Riff-Raffs create a sort of "back to basics" Psychobilly. How does it happen? How would you describe your sound?
We definitely wanted to do something a bit different, and more along the lines of the original, heavily rockabilly influenced sound that we thought was underappreciated. Thereís only three of us, so everything we do is very simple, and plenty of it is good ole 12 bar blues. We also really try to get the most out of our bass, with only one guitar and one bass, both need to help carry the song equally. And since we donít have very powerful equipment, I need to lower down and clean up the guitar a bit, and Cj simplifies the drums. Thatís it, we just really focus on creating good, catchy songs with plenty of hiccups and momentum. Describing your own sound is definitely tough, but people tell us its very danceable, it great to see a bunch of tough looking psychos wrecking one second, then jiving the next.
We have received two excellent, wild rocking demo CDs (many of these tracks are available on the Riff- Raffs MySpace page) . Do you wanna disclose any recording details and who has designed the sleeves?
The first demo, The Riff-Raffs! E.P., are all songs and studio recordings from our old band, the few that CJ and I wrote and sang. We wanted to get started and used our old recordings to get a head start. The sleeve was designed by all of us and was done with glue and scissors. The second one, The Garage E.P., is all new material and was recorded in our very own garage with amateur recording software and a very amateur engineer (me). And the sleeve? That was designed by CJ at work with nothing but highlighters! We were in a rush.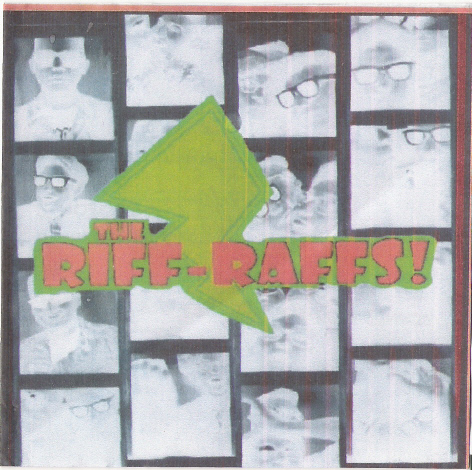 Songs like Among Them, Possessive, Someday or Taking Control are all self-written, catchy tunes, boosted by a very tight sound. Who writes your songs ? What are the influences behind them?
We all write the songs, itís not a complete collaboration, but we all bring ideas, lyrics, and riffs to the table and let each other decide what stays and what goes. Influences? Nothing in particular, just whatever comes to mind, movies, video games, and Batman! Ö and food.
Do you play any cover versions in your live set ?
Oh yeah, plenty. Sometimes we play one or two, and depending on the audience, weíll stick as many as four or five in there. Its just so much friggin fun playing one of your favorite songs live, especially if the audience can recognize it. Weíve covered Batmobile, Oingo Boingo, Rolling Stones, Wigsville Spliffs, and plenty of Krewmen. Of course, thereís a certain danger when playing any classic psychobilly tune, if you fuck it up, your doomed!
You are also very active on MySpace. What do you think, how important is the internet, especially MySpace for an up-and-coming band like The Riff-Raffs?
MySpace is the best tool, for any band. Itís helped us out tremendously. Itís free promotion, free publicity, and a huge built in network of people who can listen to your band instantly, and either become a fan or not. If you take advantage of it, you can network, get gigs, and really try to sell yourself to tons of people who would otherwise never know you exist. We have it so easy now, we can record a decent sounding track in our garage and have it reach tons of people though the internet. We do most of our booking through our page and it keeps us plenty busy. Itís not a necessity, but itís big help.
What are your musical plans for the future?
Right now were still focusing on gigging as much as possible to get out name out there. As soon as we get a chance, we will definitely be working on new material. We also hope to get some merch going pretty soon, so people can let other people know that theyíve seen us!! But for the real exciting news, were working a track for a seven inch sampler from four of California psychobilly bands, including The Tabaltix, The Curs, Dr. Bizarros VictimsÖand us.
Thanks for joining us and greetings to the rest of the band.