(added January 2010)
INTERVIEW WITH CAVAN 'KEV' SAUNDERS
( GUITARIST WITH FRENZY )
by wildhank
When and how did you get into Rockabilly, Psychobilly?
I started out playing in bands around 1974 when I was 16. By the time I got to join Frenzy in 1984, I had already gained a lot of experience as both a performing and recording musician. My style of playing was more Rhythm and Blues than rockabilly, but 80's psychobilly was a kind of mixture of the old rocking styles and Punk/Trash rock which I liked anyway.
You eventually joined Frenzy in 1984 and replaced Simon Brand on guitar. How did it happen? Did you know Simon, how did you get along with him?
I knew Steve (Whitehouse) because we lived in the same town, and he asked me to join as Simon had recently left. I met Simon a few times as we played some gigs together, in London at Klub Foot. and also at a Festival in Dendermonde, Belgium. At that time he was playing in Torment, and their bassist (Ed note: Simon Crowfoot) was a former Frenzy roadie. I never really got to know Simon as we only ever met at gigs, and we lived in different places.
Frenzy created a very unique sound from the very beginning. What do you think makes the Frenzy sound so special, what were the main musical influences?
When I joined Steve and Merv (Pepler), they had already recorded a few songs for the first album and a 7 inch record was completed before I was recruited. The recording sessions for Hall of Mirrors were rushed ,and I personally think the record suffered as a result. This is often the case with debut albums as no one knows what kind of sales figures to expect. As it happens , it turned out to be a classic of its Genre.
One of the strong points we had was that all of us contributed to the writing, and I think that the best early line up of the band was Steve, myself and Merv, from the point of songwriting, but the best live line up was Steve, myself and Adam (Seviour). Merv was , and still is, an incredible talent, but he was unable to turn pro at the time ,due to an Apprenticeship. Although Merv played on Clockwork Toy, it was Adam on the cover photo, and if I remember rightly, Adam joined us around Spring time 1986...
Frenzy were always different from anything else going on at that time as we all came from diverse musical backgrounds. Steve was the rocking guy, Merv was a multi instrumentalist who grew up on pop and rock music he heard from his parents record collection. I was the oldest guy in the band, although I was only around 26 when I joined, I had been playing in bands for ten years, some with small and some with large line ups. Everything from trios to 8 piece funk outfits.. I had also made several solo recordings, but Frenzy was the first time anything I did was released on vinyl.
As for musical influences, I can't really speak in depth for the others, although I know Steve was big on Rock and Roll, and Merv was into Punk and Goth. I myself have always liked a wide range of musical styles......I will give you a list of some of them.. Scott Walker, Jacques Brel, Beatles, Stones, Love , Coltrane, Byrds, Yardbirds, XTC, Costello, Standells, Spirit, Tim Buckley, Meters, James Brown, and Classical Baroque music.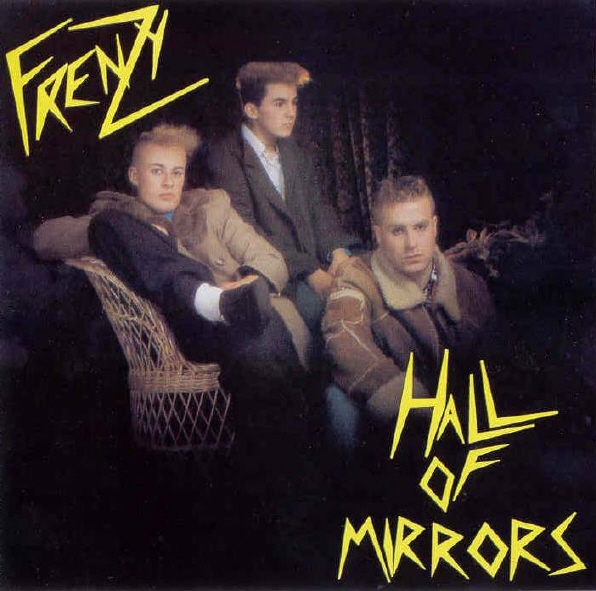 Most of the band's originals are credited to all band members. How did you get the songs together ? How did it work?
The songwriting was usually done by all 3 members. Someone would bring along a partly written song and the others would help to complete it. For instance, I wrote most of I see Red, with Merv and Steve adding the finishing touches. Merv wrote most of the song called Clockwork Toy, but I wrote the chord sequence used in the songs chorus. I wrote the lyrics to I see Red after looking at a book of Vietnam war photos by Don McCullin, who I later found out was living nearby in Frome, the town where Frenzy lived at that time.
Frenzy is also known for some odd cover versions. Who came up with the idea to cover Wall Of Voodoo's Mexican Radio?
As for cover versions, Mexican radio was a favourite Wall of Voodoo track that we all liked. Love is the drug, by Roxy Music was another record the Band listened to.
You guys also became one of the premier live bands in the heyday of Psychobilly, headlining festivals on the continent as well as the Klub Foot. What was your most memorable gig? When was the last time you watched the "Just Passing Thru…" video?
My favourite gig with Frenzy was when we played in the main hall of the Paradiso in Amsterdam. In fact 1986 was a really good year for the band, we were getting a lot of gigs due to the success of I see Red. I haven't watched Just Passin' thru for some years, although I regularly watch Frenzy footage on the Internet.
The band is also responsible for one of the most controversial albums of the genre, "Sally's Pink Bedroom" . The use of electric bass, trendy sleeve design, the use of a keyboard and a general Pop feeling made many loyal followers believe that Frenzy wants to break with their Psychobilly audience and is about going mainstream. What was the inspiration to record that album, what do you think about that release in retrospect?
Ok, now on to Sally's Pink Bedroom.......As you would probably agree, Frenzy were very different from anything else around at the time. I would describe the music as Progressive Psychobilly, and right from the start it was very obvious from our lyrics, that we were all very clued in to the political climate of the time. After we had the Independent hit with I see Red, things were good, but soon we were having differences with our record company about how much money and promotion should be going into the band.
I remember suggesting to them that they should issue a Red vinyl 12 inch extended re-mix. They said no as they had already exceeded the budget. We were very close to getting into the mainstream charts, as Radio One were playing us on their night time shows..
We wanted to get out of our contract with the company and offered to make an album of cover versions, to honour contractual obligations, and not give them any of our new material. A compromise was reached whereby we would make an album of half covers/originals. It is true that we were going more mainstream, we didn't make a lot of money in those days, and most of our income was from live shows, which kept us out on the road a lot of the time. Steve was using an Electric Bass on stage , as well as the Acoustic upright, and some fans took exception to this. We felt frustrated by the unwillingness of the audience to be more open minded.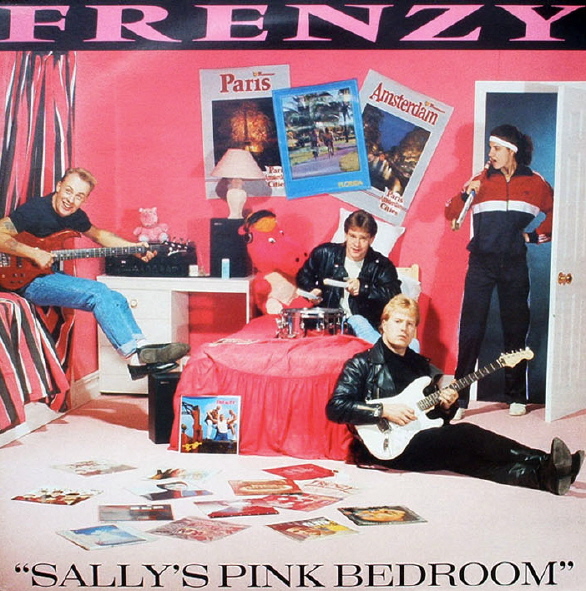 Frenzy called it a day in winter 1987. What were the reasons for the split?
After a tour of Germany in late 1987, Steve decided to split the band up.
The band eventually reformed about six months after the split. Why didn't you rejoin Steve Whitehouse and Adam Seviour?
In early 1988, he contacted me about reforming the band, but for various reasons I didn't want to go back to it. For me, the first Golden period of Frenzy (1984-87) was over!
What do you do these days ? Do you still keep track with what's going on in the world of Psychobilly?
In early 88, i started working on material for a solo album, which was very experimental, and included some spoken word material. It was entitled Little Death and was released in 1989 as a chrome cassette, this was followed in 1990 by another less experimental album called Paradisiac. I spent the early part of the 90's working for a Theatrical agency, and also went into the Education system teaching Guitar. I worked in Film and Television for a few years but had to give it up due to Medical problems.. I am currently involved with making Electronic music in my home studio, and also have a live Acoustic project... For more details , please check out...
www.spookboy.co.uk or www.myspace.com/spookboy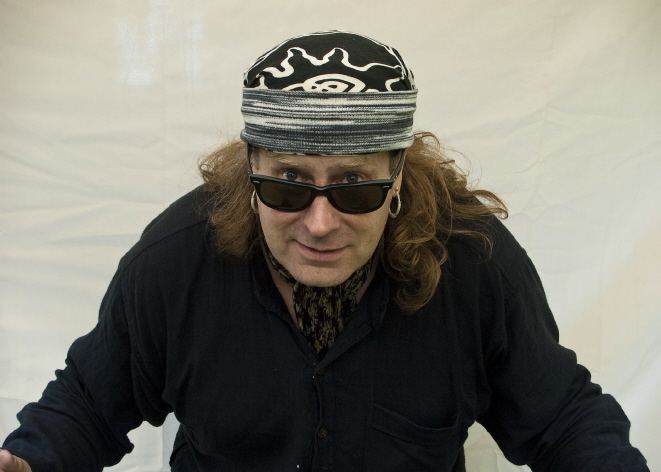 (Photo credit to Martin Edwards)
[ Home ] [ TORMENT TRIBUTE ] [ PSYCHO NEWS ] [ GIGS, FESTIVALS,TOUR DATES ] [ UPDATES ] [ THE BANDS ] [ THE RECORDINGS ] [ INTERVIEWS ] [ LYRIX ] [ LINX/CONTACT ]