(added August 2014)
INTERVIEW WITH BRUNO MALO
( MOONSHINE STALKERS )
by John McVicker
Tell us a bit about yourselves.
THE MOONSHINE STALKERS started in late 2010 London with Mark Otto on drums, Ricky Sardi on guitar and vocals, and Bruno Malo on Double bass, previously the MOONSHINE STALKERS were known as Killing Seymour with a female singer,but she left the band so we decided to change the band name and sound, Ricky gets in charge of the vocals for a while. After a couple of months later Ginger Medham from the Ricochets put us in contact with Andy Kandil a very talented guitarist from the US, living in the UK and looking to join a Psychobilly band, so we meet up for a practice and decide to have him in the band, definitely a great addition ,Andy's guitar and vocals gave the MOONSHINE STALKERS a unique sound, would say Psychobilly with a modern twist. After a few weeks we get in touch with Philip Doyley to record a 4-track EP (Look Who's Stalking) he also recorded the only released 4-track EP of Killing Seymour, Ricky decided to leave the band and followed by Mark so we decide to get Craig Eriksson also a very talented drummer to join the MOONSHINE STALKERS, this is the current band formation getting better and better such as live and on record with wild and fast sounds that will wreck your soul.
Any of the band play in previous bands of note?
Yes we all played in other projects in the past not known, currently we also play for the Guitar Slingers, Andy plays guitar in the Highliners, Bruno sometimes covers the bass for The Pharaohs, and we all do session work for other musicians.
Where and when was your first gig and how did it go?
Our first gig was in Milton Keynes July 2011 with The Zipheads and Sons Of El Roacho organized by Phil Benson, also makes part of the Bedlam Breakout Crew, was a great show!!
Have you already played outside the U.K. ?
Yes we've played Pineda Psychobilly Meeting in 2012 replacing The Bullet Bitters from Finland, and we played in Finland this year at the Club Sin Festival in Tampere.
What are your favourite bands to listen to and watch ?
There are so many hard to tell, we do like Batmobile. Long Tall Texans, Demented Are Go, The Ricochets, Skitzo and more off course.
How did you get the deal with Diablo Records?
We know Philip Doyley from Diablo Records from previous recordings of Killing Seymour, we like his work and he also likes the band work, so he decided to sign us.
So far you have released a single and an album. How do people buy these and are you happy with the final product?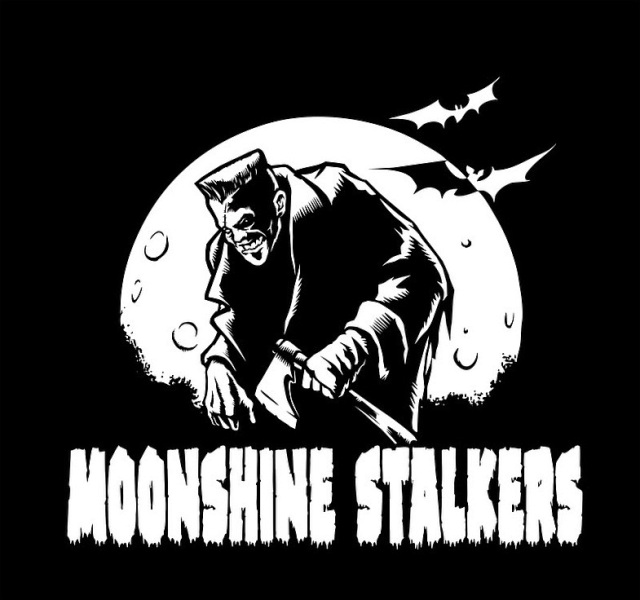 The MOONSHINE STALKERS have a few more releases, but we keep it in such a low volume of copies that becomes high in demand, most of our vinyl releases are limited to 100 copies, and they get sold out in a few weeks, we have a very good feedback with great reviews from our music and records from all over the world.
Discography: 4-track CD/ EP Look Who's Stalking ( 2011 ) ; Unnamed 2-track 7"single (2013) ; Necropolis Station 7" ( 2013 ); Unnamed 2-track 7" single from 1st EP Look Who's Stalking (2014) ; Album Splatter House Vinyl and CD ( 2014 )
How did you get Tony McVey of Skitzo fame on a track?
It's a big honour to have Tony McVey on our album, we all are big fans of Skitzo and Tony is a good friend of ours, he really likes the MOONSHINE STALKERS, so we asked him if he would like to record a track with us.
Any fun stories on the road stories you can tell us?
Well we do have the usual parody situations, lost on the road, late for shows plug and play with no sound checks, but the most funny story was our show in Pineda 2012, last day of the fest Sunday, we are supposed to get on stage as opening act 20.00h suddenly starts raining like hell, so bad that the crew from the fest had to get brushes to clear the water that almost flooded the stage area, and to make the situation even worst!!the Euro cup final Spain VS Italy on the very same day kicked off 20.00h, so the performance was great but not much of a crowd...and it stopped raining after our show....still good fun!!
What do you hope to achieve in the future with the band?
We would like to gig more internationally, hopefully soon, and release more records, we do like what we are doing and we want to make and give the best for the psychobilly scene hopefully soon, and release more records, we do like what we are doing and we want to make and give the best for the Psychobilly scene.