(added May 2014)
INTERVIEW WITH ANDY FIFIELD
( BASS PLAYER & LEAD SINGER WITH BREAKOUT)
by John McVicker
Where and when did BREAKOUT form ?
Breakout are an old school style psychobilly, punk, Punkabilly, rock trio based in the South West UK. We originally formed in 1992 in Falmouth, Cornwall, UK.
Tell us about the .first line-up and first gig ?
The original first BREAKOUT line-up was Andy Fifield (Andy F; double bass and lead vocal; Sean (Mudman) Lee (drums and backing vocal); Antony Hill (Anthill; guitar and backing vocal).
BREAKOUT's first gig was on June 14th 1992. A Sunday lunchtime at The Bird In Hand pub in Hayle, Cornwall. We supported another local rockabilly band called The Hi-Watt Trio. Our second ever gig was on August 22nd 1992 as the support band for The Frantic Flintstones, thanks to Simon Nott who was putting on gigs in Tiverton, Devon at The White Ball Inn.
After that we set looking for gigs and playing when we could in the pubs and clubs in Falmouth and other towns and village's around Cornwall. We also did a bit of busking now and then and just for a joke we entered a local competition and somehow to our surprise we won it and became St Austell's busking champions which got a few write ups and pictures in the local newspapers that week.
How did the first recordings come about and .haven't they been on a couple of comp. CDs ?
The first recording was at Daniel Road school, Truro, Cornwall in April and May 1993. A rough demo engineered by a good friend Pete Zalick who worked at the school. Pete later replaced Anthill on guitar and played a few gigs in 1994 and 1995. A memorable gig with Pete was an alldayer at The Ashburton Hotel in Devon. The Frantic Flintstones were top of the bill. The promoter was Simon Nott. We crashed in the van in the car park, not that anyone got any sleep. Gary Day was running around the hotel most of the night as we recall.
Second recording was at the now legendary X-Ray studio engineered by Alan Wilson. No album was released from the session however we made up a few cassette copies and gave them to our friends and sold a few at our gigs now and then along with some t shirts we had printed. Alan managed to get one track, "Breakout", released on a Rockhouse label compilation CD album entitled Rock and Roll at the Turn Of the Century Part 4.
Third (and latest) recording was in 2003. Recorded at PMC studio in Plymouth. Another demo that included five of our own tracks, engineered by our guitarist Jim Saunders who worked at PMC at the time and joined BREAKOUT in 2000. We pressed approximately 100 CD's ourselves with some artwork/sleeves and again gave them to friends or sold them at our gigs.
19 years after the X-Ray recordings Andy received a message from Alan Wilson to say that he would be releasing four tracks from the session on a compilation CD album entitled Rare Psychobilly From The Vaults Volume 1 : X-Ray Studio.
Didn't you once support the Frantic Flintstones on tour: What was it like and any funny stories from that tour ?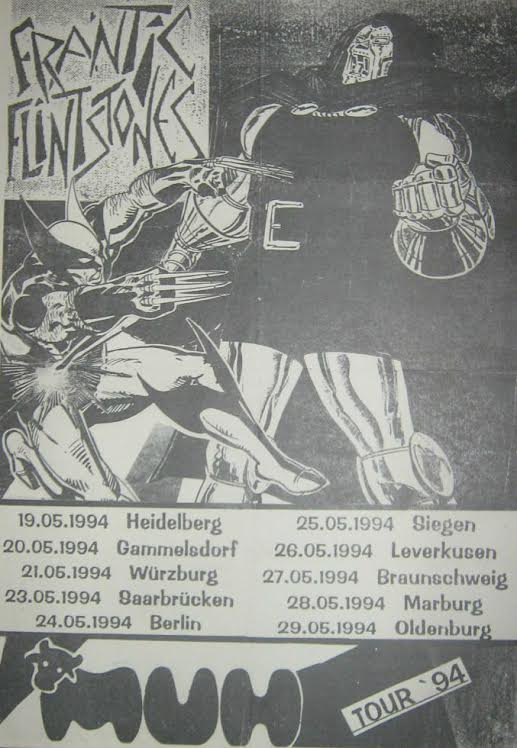 Yes after playing a few more gigs in Tiverton thanks to Simon Nott and recording at Alan Wilson's studio, Andy received a telephone call from Chuck and he asked if we wanted to support the Frantic Flintstones on their 'Raving With The Lunatics Tour' in Germany in November 1993. The FF lineup was Chuck Harvey, Jon Peet (Pug), Ritchie Taylor and Gary Day. Their driver, Simon Nott.
The temperature on the tour was continuously below freezing and we travelled in our Ford Transit camper van with blankets wrapped around us to keep warm as we made our way through the snow and ice. Gary Day would give us some money each day for fuel to get us to the next gig. There was nearly always an aftershow party somewhere afterwards so most kept going until they dropped, although most were probably afraid to go to sleep for fear of being the victim of a practical joke being played on them.
One memorable night was spent at Koefte's (Mad Sin) flat in Berlin after a gig with them at Huxley's. Koefte managed to get some cider? for us cornish boys. Party on! There is a memory of band members of both bands all sleeping side by side on Koefte's bed, any available chairs or the floor. Everyone was messed up that night.
One gig on the tour was at The Star Club in Dresden. We believe that BREAKOUT (being the support band) were maybe possibly the first UK Psychobilly/Rockabilly style band to play in the former eastern Germany shortly followed a storming FF set. It was minus 13 degrees that night and we had ice on the inside of the van. To cold to sleep !
We got stopped by the German police, carrying big guns, for a passport check in Frankfurt. We had all left them in the van which took a while to explain where they were as none of us can speak or understand German language (bits maybe) and their English was hard to understand. It was hard going keeping up with it all, driving, playing, partying, no sleep, little food, alcohol and blah blah but a really great fun experience.
Didn't Andy play with the Flintstones for a bit ?
Yes. Andy replaced Gary Day (who was touring with Morrissey) and played with the FF in 1994 and early 1995 but had to leave the band due to his work and family commitments. He and his wife had a daughter aged 9 and a son aged 6 at the time.
Andy played 20 or so gigs, maybe more (most are a blur due to over indulgence FF style) including the 10 date "Muh" Tour, Germany, May '94. Tiverton and Northampton UK, September '94 and a few odd weekends in Germany and Belgium, November and December '94. Never a dull moment, constant piss taking, great laughs, hard partying, little or no sleep but that's what it's all about. Andy did not go into the studio with the band so was not lucky enough to record anything with the FF during that time.
Funny story, after the last gig Andy played at Essen in Germany in February 1995, he got stopped and searched by French customs at Calais returning from the gig driving his Ford Capri with the double bass on a roof rack, amp etc in the boot and Sean (Mudman) riding shotgun and one of our good mates (who we shall not shame) in the back seat. Ashtray was full ! ....."You smoke hashish ! We search, we find it". "We take car to pieces". We had to empty everything from the car for them to search it. Even had to untie the bass. After an hour or more, even their dog had given up, they had found nothing, much to their dismay and finally they let us board the ferry. Scary at the time but funny now looking back on it. We gave a smile at Dover and they just waived us through.


Did Mudman roadie for the Sharks for a while? How was it ?
Sean (Mudman) used to go to loads of gigs up and down the country and made friends with many of the bands during that time. He simply would turn up and offer to help out, pick up and carry the bands gear etc and normally ended up on the rider that night for his effort. Known for some of his friendly drunken antics he became the loveable helpful psychobilly giant for The Sharks (his favourite band), The Long Tall Texans and Restless to name a few. He was given a one off t-shirt by The Sharks with Mudman Road Crew on the back of it. He still treasures it to this day.
A funny moment was him wearing the t-shirt back to front during The Sharks interview which was included on the 6th Rumble video in the mid-90s. BREAKOUT also did a short set during the talent spot that weekend, also on the video, wearing some awful shirts just for the laugh. Andy managed to borrow Gary Day's bass and amp. Anthill borrowed an amp and Mudman blagged a back line so we could do it.


Didn't they name a song after him as well ?
Chuck Harvey nicknamed Sean, 'Mudman' on the tour in Germany in 1993 and Alan Wilson and The Sharks later wrote, recorded and then released the track 'Mudman' on a 12" four track vinyl. It also became part of their live set and they would always dedicate the song to him if he was at that gig on the night.
Why and when did BREAKOUT reform ?
We never really officially split up. After Pete left in 1995 we were searching for another guitarist for nearly 4 years. We had a few jams with different people during that time, good mates, members of other bands etc but played no gigs until Ralph Angel joined us and played his first gig at The Phoenix in Plymouth on May 23rd 1999. Ralph played guitar and also shared lead and backing vocals with Andy until 2000 when he left the band to form his own. Ralph was replaced almost immediately by Jim Saunders who had shown interest at an earlier gig he came to. After a few jam sessions BREAKOUT were back out gigging in the local pubs of Plymouth and Cornwall. Jim's first gig with BREAKOUT was at Charlie's in Plymouth (now Voodoo Lounge) on 21st October 2000. Jim has played all BREAKOUT gigs since then and he is still with us now 14 years on. A 6ft plus giant of a man. Not a Psychobilly but an excellent guitarist who loves to turn it up loud. One memorable gig with Ralph was supporting the UK Subs at Tramps in Plymouth in November 1999 the night before Sean Mudman's daughter Billie was born.?
What does the future hold? Any gigs abroad , CD plans etc etc ?
BREAKOUT have no solid plans for the future as regards to recording or gigging. We do need to record something in the future.
In recent years we have only played three or four gigs a year in our local area. These have been charity events, alldayers, birthdays and the annual Plymouth Punx Picnic a few times over the years. We played a couple of gigs at "Klubtastic" in London (mid 2000's) one with The Guana Batz and the other with Demented Are Go. We were lucky enough to be one of the supports for a gig in October 2013 with the legendary Culture Shock at the Falmouth Rugby Club in Cornwall.
We will continue to search for gigs and will consider playing anywhere that we are asked or invited to play. We will happily support any touring bands who come down our way if we can, difficult because more often than not most venues and promoter's can't pay support bands so it is often at our own expense if we play or we just play for free entry or door money.