Books
Craig Brackenridge
Let's Wreck-Psychobilly Flashbacks From The Eighties & Beyond (2003)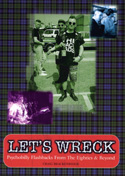 This is some sort of autobiographical look at our beloved scene, written by this Scottish fellow, who was infected by the virus back in the early eighties. The book is packed with stories about his daily life as a Psycho kat, concomitant phenomena like the scooter scene or his own career as a vocalist of a couple of low profile Psychobilly related outfits. The book also includes a couple of chapters with apodictic statements about essential bands, venues and albums. This is real life, real Psycho. Simply thrilling!
Craig Brackenridge
Vinyl Dementia: The Psychobilly & Trash Record Guide / Part 1: 1981-87 (2004)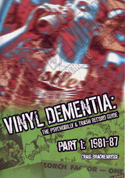 This A5 magazine includes full-page reviews of twenty classic Psychobilly recordings, that were all originally released between 1981 and 1987. It was originally distributed as a fanzine back in 1999. The reviews also contains release details, current availability and complete tracklists plus some background information and highlight tracks for each chunk of vinyl. Among the reviewed recordings are essential albums from The Meteors, King Kurt, Guana Batz, Krewmen, Ricochets and key compilations like Zorch Factor 1 and Hell's Bent On Rockinī as well as trash goodies like Ug & The Cavemen or the legendary Four On 4 (Trash On The Tube ) EP.
Alan Wilson
Deathrow-The Chronicles Of Psychobilly (2005)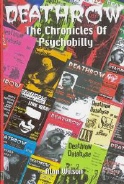 This is a collection of the very best articles from what was arguably Psychobilly best known and most popular fanzine. It was originally quarterly issued by Alan Wilson in the years from 1993-2000. The almost 400 pages are loaded with reviews of Psychobilly events, interesting interviews, detailed band stories and inside information on bands / artists such as The Meteors, Demented Are Go, Frantic Flintstones, Polecats, Sharks, Nigel Lewis, Boz Boorer, Restless, Frenzy and many many more. Essential!
Craig Brackenridge
" Hell's Bent On Rockin' - A History Of Psychobilly " (2007)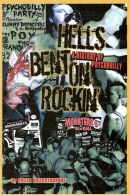 Here is the book genesis of Psychobilly. Author Craig Brackenridge keeps track of the most underground music genre, that has started to breath about three decades ago. The book not only follows in chronological order the birth of Psychobilly, giving a full account on musical influences, pioneering bands, the mid- 80s surge, covering on excellent bands and albums, but also focuses on what's happened on the continent, Japan, Northern America and the rest of the infected world. It also includes well-researched short band stories, information on records, release dates, lineups and lineup changes, key record labels, festivals and the genre's key venues, Psychobilly lifestyle etc. etc. The whole package comes along with more than 100 photos and flyers and some healthy remarks on the (possible )future of Psychobilly. F***in Great!
Craig Brackenridge
Psychobilly (2009)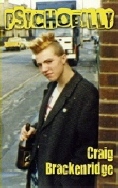 Psychobilly is the first novel starring a Psychobilly personality . The well-written book is about Harry Powell, a teenage kat from Stevenage in 1986.The more than 100 pages are filled with all parts of having a Psychobilly (low-)life in the good ole days ranging from wanking to wrecking, from spliffs to sex, from battles to booze. If that's not enough, Craig Brackenridge also touches on more serious topics like the "Youth Training Scheme" programme and a (wholehearted) love story. On a side note, the front cover shows Russ Surfer from The Highliners.
[ Home ] [ TORMENT TRIBUTE ] [ PSYCHO NEWS ] [ GIGS, FESTIVALS,TOUR DATES ] [ UPDATES ] [ THE BANDS ] [ THE RECORDINGS ] [ INTERVIEWS ] [ LYRIX ] [ LINX/CONTACT ]