(added August 2014)
INTERVIEW WITH BILLY OXLEY
( EPILEPTIC HILLBILLY'S, THEE CHILLS, THE RADIACS & MORE)
by WILDHANK
It's read that the very first incarnation of THEE EPILEPTIC HILLBILLY'S is dated back to 1986. So tell us a little bit about those early days and why did you eventually metamorphosed into The Radiacs?
Yeah; 1986 we did our first gig I think we were around in 85, I was playing drums for a Psycho band called the Zyclones before. Then we were the first Psycho band in Sheffield and the surrounding area , the founder member of the Zyclones is the front man for the Sons of Elroacho (great band). We the HILLBILLY'S got together because Paul was playing in a Rockabilly band with Dale and I think Paul really wanted to get into playing Psycho music, Paul knew I was into it and asked if I wanted to be in a new band ,I said 'yes' and we got Shaun in Dale's brother and that was it the HILLBILLY'S were born. We did a couple of gigs before we were getting alot of problems with the a local epileptic group ( people who suffered from epilepsy ) . So not to upset these people we changed our name to The Radiacs. Great times so much fun.
After the 'Return Of The Radiacs' EP, you decided to carry on as THEE EPILEPTIC HILLBILLY'S with a revamped lineup in 2010. What about the split from the Williams brothers and what was the main reason to bring the HILLBILLY'S moniker back to life?
We recorded the EP and did a couple of gigs. My intention was to never stay but do a couple of gigs then carry on with Thee Chills and I had other projects in the pipeline so I always had other plans. But I think we all had different opinions as to how and what we were gonna do and I just didn't work for us. But Paul and me thought we had something to offer ,so after wishing Shaun and Dale all the very best for the future we decided to bring back to life the band we created all those year ago. We got Steve Oxley on drums at the time and I knew then that it was gonna be fun .
How did you get in touch with Alan Wilson back then, how did the demo CD and the album deal come about?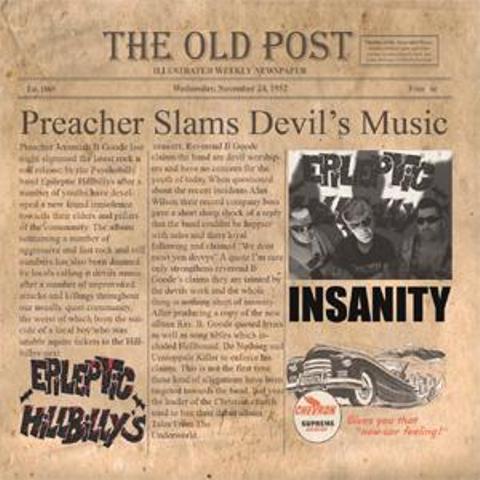 Alan Wilson got in touch with me , I was running a music store and the phone rang and this fella on the other end said 'hi my name is Alan Wilson from Western Star Records, I am re-mastering the Hellraiser album and need the artwork for from the album.'. I thought it was a joke and actually laughed it off at first ,so we made contact then ,and a few weeks later I was doing some home demos and put them up on MySpace and Alan commented on a track and suggested. I came and record the tunes and we hit it off and as they say the rest is history.
The band released two strong albums and was going from strength to strength when out of nowhere tragedy hit you in February 2012. How did the heart attack come about and was their no sign of things happen that way?
I was fine was not ready at all. I was feeling a little rundown but I thought I needed to get myself to the gym and get fit so the feel before I joined a gym. THE HILLBILLY'S was doing really well and was looking forward to a bright new year with lots of gigs etc. Then one morning I had just got in and rested on the couch and bang the next thing I was revived with doctors all over me, very scary .
Was it life-threatening then and how much did the heart attack has had impact to your life ever since then?
Yes I had a few more heart attacks after that and was told by the specialist that there was only a 30% of survival. I was on a support machine right near the end . But since then there have been some very scary moment but all in all , everything is very good, I am not 100% but I'm getting there. I now lead a very healthy life style .
When it was decided to renew the band and how was it like being back onstage after the great shit that happened?
It was crazy , the fist time I got back on stage was for Little Jo and Duaine's anniversary .They are very special friends of mine and the Guana Batz and the Graveyard Johnnys were playing and we did a few songs. It was a awesome night ,one I'll never forget ,and even after that I didn't know if I was gonna make a full comeback, but with loads of hard work we are back in the game.
Why did you change the lineup and how is Paul doing these days?
I think with me recovering it took a while for all things to get going and even then the band didn't look as though it was gonna happen. So I think Paul just wanted to move on. I see on the net that Paul has been recording some tunes and sound really good ,I wish him all the very best in anything he does (great bass man).
THEE EPILEPTIC HILLBILLY'S are just back from Western Star recording studio. Tell us a bit of the upcoming album and your favourite tracks from the upcoming release.
The new stuff is great ,we needed to record with the new line up. Adam Steenson on drums and Steve Oxley has taken on the bass from his dad, and between them they have done brilliant ,and hopefully we have made a good 3rd album that people will like . It's got some tunes that will throw you and has the standard HILLBILLY style tunes, the tracks for me are Rain , For Heaven's Sake, I think Adam and Steve like a tune called Promises. Also Steve makes his singing debut ,so look out for that but to be honest I really like it all . I just hope the people do .
When will it be out and how is like to work with Alan Wilson?
I have worked quite a bit with Alan since the first time we met ,not just with HILLBILLY'S stuff but with projects: The man really is a living legend, the amount of work that nobody realises he does and he doesn't make any money out of it, He does it for the greater good and to keep the Psycho fires burning. He really does work hard ,the money he lost on rescuing the Klub Foot tapes just to preserve them for all time ,so we all can enjoy them for evermore. He will never get the money back for them , he's a great man and a really good friend .
Is there anything else in the pipeline for 2014? Are there any festival appearances lined up for the upcoming months?
This is a steady build to doing alot more concerts mainly for next year 2015, with the new release we are hoping to be busy. We have had many many offers for 2014 but we have been very busy with other things ,so not been able to do as many shows as we would like to. But next year should be good for shows. We have the Pompey Rumble and Brighton ,Manchester, Newcastle ,and a few more so enough for this year. Hopefully for 2015 we will play mainland Europe a little more.