(added September 2013)
INTERVIEW WITH BILLY FAVATA
( FORMER BASS PLAYER WITH DEMENTED ARE GO)
by John McVicker
Where were you born and grow up?
I was born and raised in Plymouth, my dad taught navigation at the school of maritime studies. My mum was a housewife, but both pursued art careers, my dad a painter, my mum a sculptor of stone. I went to the primary school just down the street and then the local comprehensive school, also walking distance. After that I spent 3 years at the city art collage.
When did your first get into Psycho-/ Rockabilly?
When I was 10 years old, I was given some money for my birthday, I blew every last penny on a stack of Elvis 45's and a 50's rock 'n' roll album because it had a photo of a teddy boy and a teddy girl jiving on the cover. I started greasing my hair back at 14 and did the teddy boy thing. In '81 Meteor Madness came out and I bought a copy, along with stuff like Johnny Burnette and Chuck Higgins.
During this period in Plymouth there were several places that played 50's Rock 'n' Roll and Rockabilly, the first place I went to ( I was still in school at the time ) was the Cattedown city engineers club, which is where I met Darren, along with alot of my other friends. We all took the coach to London to see both Rockabilly and Psychobilly shows on a few occasions, and we're all on the back of the Stomping at the Klub Foot album, standing in the crowd waiting to get in.
How did the Court Jesters come about?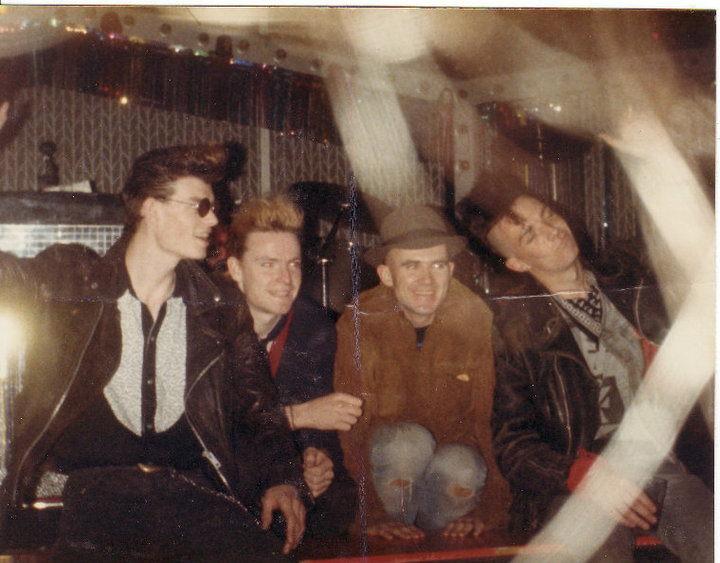 By the time I got to collage I had playing in a three piece skiffle band ' The Switchblades ', after that I joined up with Jeff Thomas, Phil Terry, who was replaced by Mike Pannell when he left to the army, and Darren Ward, to form Rhythm Bound. Shortly after collage I moved to London with my girlfriend, a month or two later fellow band mates Darren Ward and Mike Pannell also moved up. So the three of us along with our singer Scott Davis formed the Court Jesters ( awful name ), and we started rehearsing at a south London studio that was also used by Skitzo and King Kurt.
The Court Jesters were around for a couple years, playing the new band circuit. We played with Skitzo, Demented and The Deltas plus a bunch of local unknowns. We did a Welsh 'tour' and travelled around in a psychedelic van. The highlight for The Court Jesters was headlining an ' up and coming bands show ' at Dingwalls. We did record a few songs but only for our demo tape, no vinyl.
How did you join Demented Are Go?
When Demented played with The Meteors and Mark dedicated the next song to them as a "cheers mates like yer music" and then proceeded to play One Sharp Knife, they took it as an insult and pushed Lex off the stage. Demented Are Go split up after that. Mark at the time was staying in one of the squats we had in south London, there were about four squats at any one time being occupied by a bunch of friends, most of whom were from Plymouth. With Darren now playing for Skitzo, the Court Jesters were no longer a band. Mark asked Mike and I to join Demented Are Go, all we had to do was convince Ant to play. So we went around to his house, and got a flat out NO. It took a minute, but he came around eventually, with Ant and Simon Cohen back in, we were offered a week in the studio. The result of that was The Day The Earth Spat Blood.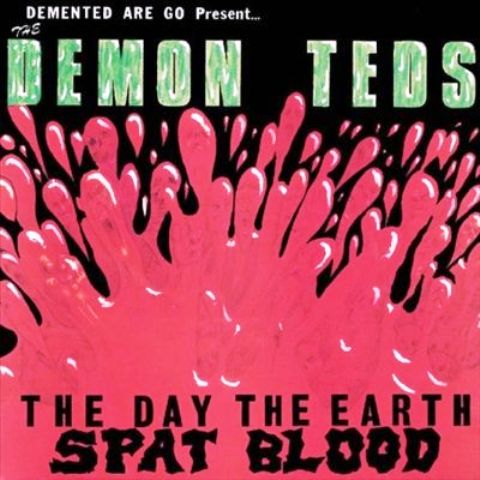 What was it like recording this album?
The whole thing was written in the studio, Mark and Mike had the lyrics and we all work together to make them songs. We had alot of fun doing that album, free food and beer, a whole week of studio time paid for by the label, not bad for a bunch of Rock 'n' Roll retards living in squats.
Any on the road stories ?
We started playing shows with this new line-up, the first few gigs were in Holland, the day we left Mark had dyed himself green and was sporting a rubber Elvis wig. We get to the ferry and all the other bands are 'oh no here comes the acid family' . The heavy drinking on the boat, of course, ends up in a fight. Once in Amsterdam we get to the hotel, Mark decides he doesn't like the art work in his room and throws it out the window. At the gig, while waiting to go on, Mike suggests to Mark that it might be funny if he were to take off one piece of clothing each song so that by the end of the set he'll be completely naked. By song three Mark has no clothes, by song five he's taking a surfing shit on stage and then kicks it into the audience. After the gig we all go to the red light area, we loose Mark, last seen waving his dick at prostitutes. The next day we have to go on a search for Mark as he's nowhere to be found. Ant finds him in the middle of a crowd, spitting yogurt on himself. Once back in the van we were off to our next Demented adventure, and trust me it didn't stop there. But I don't think all the craziness was Mike's cup of tea and he soon left. We did a couple shows with Paul from The Quakes as a sort of 'fill in', and soon after got Lex back. It was with this line up that Demented Are Go got back in the groove and started touring again. And for the next three years I had alot of fun being part of the Demented Are Go Orgasmic Nightmare. Lots of craziness going on all the time, not just in the band, but also in the squatting scene, in the rocker / biker scene that I was also a part of, and of course in the Psychobilly scene itself. NEVER a dull moment.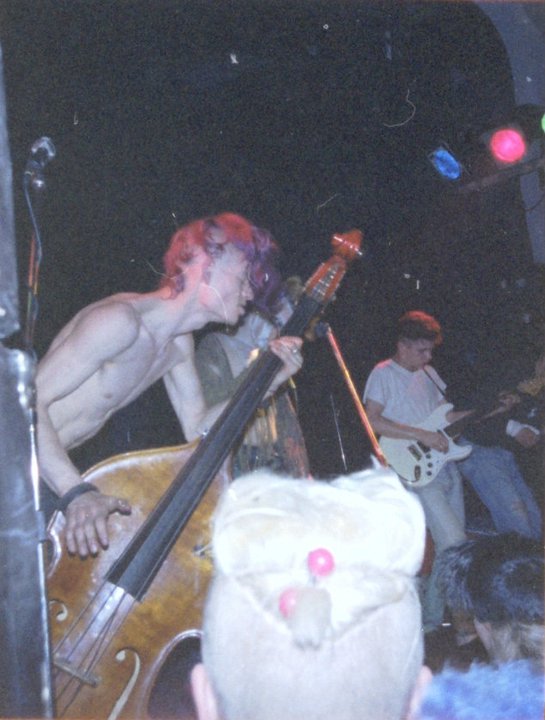 What was it like recording Orgasmic Nightmare?
Recording Orgasmic Nightmare was more of a let's get down to business approach, or at least as much of a let's get down to business as we could muster. This time we actually spent time writing the album first, then recorded it. If I remember correctly, a couple songs were even played out live.
Why and when did you decide to move to the United States?
I moved to Chicago in '92 at the time Demented was doing well but not good enough to pay us a full time wage. In between tours I'd print t-shirts which paid next to nothing, this coupled with the fact that my girlfriend had to move back to Chicago anyway, made the ' what the hell ' decision easy. Once in Chicago it took a couple years to get settled in.
I have a CD of a band called Wreckin Ball you were in. Tell us a bit about this band and what release you have been on and other bands you have been , are on?
Hi Fi and the Roadburners guitarist Randy Del and I formed Wreckin Ball. We did release one CD together before going our separate ways. After that myself and a friend Remi Gits put together an acoustic two piece called Torturing Elvis. We would play every Sunday at a place called Smoke Daddy's, and that gig lasted eight years. We would also go on tour and play cowboy bar's and small towns around the U.S., which is how we met Sandy Nelson. This chance meeting resulted in our CD Sandy Nelson and the Sin City Termites, featuring Eddie Angel of Los Straightjackets on guitar. After Remi moved to Montana, I started playing bass for Rockin' Billy and the Wild Coyotes. Through this band I had the good fortune to play with Sun legends Hayden Thompson and Sonny Burgess as well Dale Hawkins and Warren Storm among others. Currently, myself Denis and Brian from the Roadburners, Jason from the Bamalamas and Eric 'Shoutin' Sheridan on vocals. This is a new project and we're just starting to gig now, the North Avenue Stompers is the name and we're doing early 50's Rock 'n' Roll tunes. One of our first gigs was at our shop where we work on our hot rods and bikes, the gig was filmed and the band will be in a new independent film by local filmmaker Ryan Oliver called Restoration, his company is Deathblow productions, check it out, all the footage so far is looking pretty damn good.
How did you get into the motorcycle rebuilding game? What bike are most proud of rebuilding and why?
As for the bike's thing I started riding in London and the first bike I stripped down to the frame and rebuilt was my 1960 B.S.A. that I turned into a cafe racer, then blew it up on the way to a D A G gig, took the engine out, got on the bus with the thing and had it rebuilt. Once back in the frame and all looking well I rode all over, once up to Scotland and once down to Plymouth, then it got sold so I could come to Chicago. Once in Chicago I needed another bike, I found a basket case Harley for cheep and ended up rebuilding the whole thing. It was mostly a stock super glide, until I went over the handlebars and it sustained enough damage to warrant a new frame and front end. At this point I decided to give it that bobber/chopper look, however I still needed to get around and the Harley was going to take some time to get it how I wanted it. Funds were short but I managed to piece together a ratty 750 Triumph chopper for $1200. I rode that thing all year round. The Harley got done and was featured in The Horse magazine #35 sept 2003. But it was when I was riding the Triumph that I started building bikes with Erik and Hans Kish of Hi-Fi and the Roadburners. First I gave them a hand building their own bikes and then we started building and selling bikes on a part time basis. When we moved to our present location I wanted to do the bikes full time and started Billy's Vintage Iron. My bikes have been in mostly The Horse mag issues #35 sept 2003, #49 april 2005, #69 june 2007, #79 july 2008, #95 feb 2010, #104 dec 2010, and #113 oct 2011. The last two bikes came out pretty good, the '48 Harley got a B.S.A. gearbox, a custom frame and a ' boozefighters ' look to it, I liked that one, it rode great a nice little curb hopper. The other bike that I liked as a rider was the '58 Triumph, the engine got balanced and the mag completely rebuilt, and that thing would start on half a kick. I have another pre-unit Triumph in the works that I plan on building a better than stock frame for, also have a 1924 Harley to put together, and I have a 1950 Chevy fleetline that I plan on chopping and lowering to make a 50's style kustom out of. Right now I've teamed up with hot rod builder Mitch Tanahil, who is an excellent sheet metal fabricator and welder, together we've formed Rolling Idols and have a growing network of skilled people in all fields connected to the kustom car and bike scene.
Have you stayed in contact with any of the Demented Are Go guys?
I left to come to America in 1992 and I've mostly been in touch with Ant. I saw Mark and Lex when they played Chicago, the last time was a few years ago when Mark was being backed up by the Klingonz. That was a fun show and we got to hang out after and party.
What does the future hold?
As for the future I'll keep on doing what I'm doing, and I'll be right here having fun as usual.