(added September 2011)
INTERVIEW WITH BEN COOPER
(DRUMMER AND ORIGINAL MEMBER WITH RESTLESS, BRAIN OF BEN COOPER TRIO)
by John McVicker
How old were you when you first showed an interest in music and who was it that interested you?
I think I was interested in music for as long as I can remember. My first memories of liking Rockin' music was liking the commercial stuff like
Buddy Holly
,
Haley
,
Vincent
,
Elvis
etc.
Why the drums ?
The drums were bigger, shinier and louder than any other instrument. I always liked the chrome.



Who's your favourite drummer ?

I am mainly playing guitar and singing in my own band now but......if you're talking about Rockin' drummers they would be Dickie Harrell (Vincent), Dick Richards (Haley), and Earl Palmer (just about everybody). Contemporary favourites are Steph Edwards (Blue Cats), John Buck (Polecats & Guana Batz), and Adam Seviour (Frenzy).



It must have been really exciting times when you had your first releases as Restless a single on a Swedish label? (Ed. Sunrock)
It was great, it was odd that the record company called us "The Restless" though.



The record company spent a lot of money on the 'After Midnight' album, I remember you were even on Saturday morning kids TV-did you like the album and did you think it could have got you into the official charts???
After Midnight
did have an impact but we'll never know how many it sold because the record company never sent us royalty statements. Also we never got any money from it apart from advances. Yes, it could have made the charts. We were doing radio one live sessions, getting daytime national radio airplay, and supporting bands like the
Clash,
The Damned
, and the
Ramones
as well as packed Klub Foot appearances.
Restless
was one of
John Peels
favourite Rockabilly bands.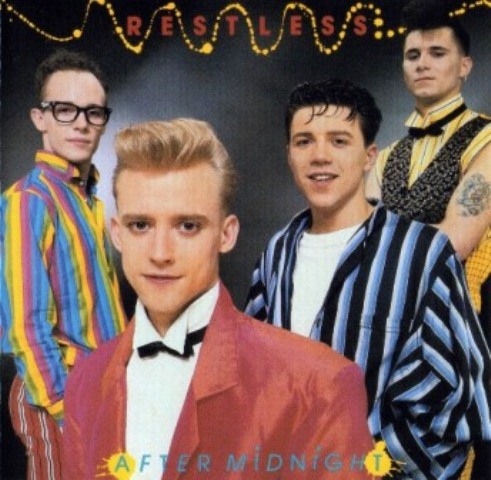 Can you remember your first meeting with Mark Harman and do still see each other/speak today?
Yes, we were both at the same school. I approached him after seeing him and his brother Paul rehearsing Johnny B Goode for an upcoming parents entertainments evening. Yes, we still speak. I did a couple of dips for Restless recently. One in Brazil and one in the USA at Ink'n'Iron 2011.



Did you all have day jobs in Restless if so what ?
We all had day jobs to start with but we ditched them as soon as Restless got more successful.



Any idea what some of the guys who past through like Jeff Bayly and Mick Malone are doing today ?
Jeff was playing often with Porky's Hot Rockin until recently and he does the occasional dep with Restless. Last time I heard about Mick he was playing in a local Punk band in Suffolk.



Why and when did you leave Restless... any regrets ?
I originally left Restless in 1990 and then again after we re-formed from from 2002 to 2007 (I left in 2006). Yes I had regrets leaving Restless after all it was my band to start with. It was me that started Restless and also I pushed to make our sound more modern. In the end, I decided to leave because I had no say in how the band was run anymore. Also after 10 years I thought it was time to move on.



You played with the Sharks for a bit what was it like and did you record with them ?
Playing with
The Sharks
was great, we did some great gigs all over Europe. Unfortunately I didn't record with them.
What else have you done and how did the solo album come about ?
I did loads of different things after leaving
Restless
including fronting my own Funk Rock band in the early 90's. The solo thing was about me trying to do some decent Rockabilly with me fronting. Up until 2007 when I started the project, I hadn't really written rockin' songs I was happy with since I left Restless. All of a sudden I got a load of great song ideas. I put 4 of them up on MySpace and people went mad for them. I got many offers from people to play in the band and now "
The Ben Cooper Trio
" has been doing club gigs and festivals ever since. I released an album on
Cherry Red Records
that also was well received and got radio play and good magazine reviews.
What does the future hold for Ben Cooper?
I am currently doing overdubs for the next
Ben Cooper Trio
album. All of us in the band are very excited about it.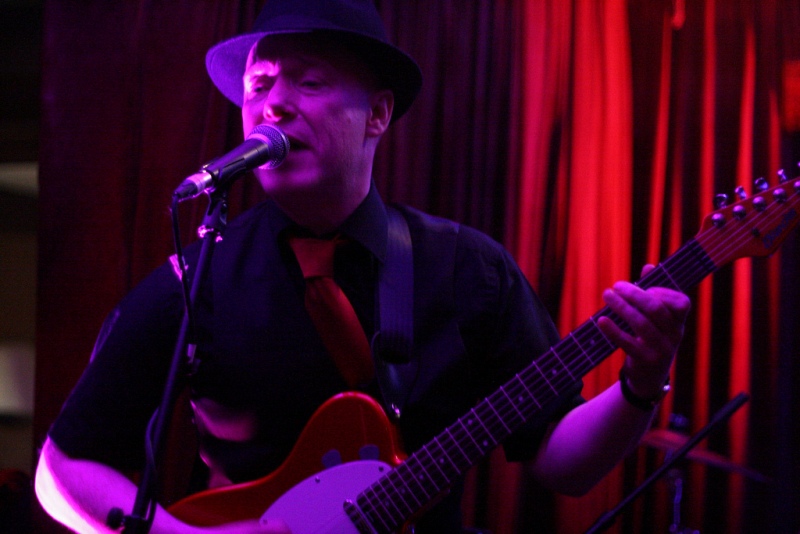 BEN COOPER ON REVERB NATION
BEN COOPER ON FACEBOOK