(added October 2013)
INTERVIEW WITH BASTARD SONS OF CAVAN
by John McVicker
Bastard Son Of Cavan are now at this time Stevie "Wild Card" Kincaide (Hollerin' an twangin'), Ritchie "The Claw" McLaren (Slappin' an hollerin') and Christian "One Beat" Carpenter (Bangin' an shoutin')
How old were you when you picked up your first musical instrument?
Stevie (S): Me Uncle made me an acoustic guitar when I was a toddler, it was the first thing I picked up each time I ran away from home(frequently), never learnt to play it as it only had two strings....broke me Dads acoustic when a petulant teenage punk, picked up bass aged 19.
Ritchie (R): I picked up my first guitar when I was 14.
Christian (C): Aged 37 two weeks before playing my first ever gig with BSC supportin' the Zipheads.
What music first interested you?
S: I would like to appear uber cool an say me dad's Rock n Roll 78's but it was the 7" of "They're Coming To Take Me Away haha" by Napoleon whatever that I played constantly, especially the B-side.
R: Guns N' Roses Appetite album, quickly realized they were awful with subsequent releases but that one was amazing for me at the time, always loved Rock and Roll though an nothing' has changed that.
Christian. Hardcore Rave.
What was your first band , line up and did you release anything?
S: First band of any note i.e. released owt for me was The Sugar Puff Demons with Andy Summers an Mark Coppin, there's still some folk up here that resents me being on the album instead of the original bassist, who I went to form Th' Lunkheads with. All I gotta say is they forgot that he dropped Andy an Mark in the shit an it's fortunate they met me...be grateful little men.
Tell me a bit about Sugar Puff Demons. Why don't some people like the fact that you are on the album? Are you Steve Hindmarch as credited on album and was there a 2nd live album released?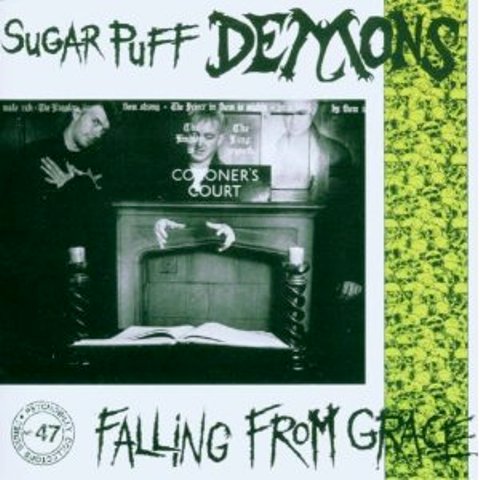 Because they were good pals with the original bassist an always stood in his corner as pals do, they got the wind took outta the sails when I formed Th' Lunkheads with Drew but true to form he quit when things got serious, like when the debut 7" was released, fear of success I believe. Yup I'm Steve Hindmarch, I had to change my surname so I could get into the states(criminal record an all that). The live album was recorded at Take 2 club in Sheffield before I joined, we were all set to do a 2nd studio one but Andy bailed. Shame cos I loved our version of Devil Went Down To Georgia...que sera sera.
How did Bastard Sons of Cavan form?
S: By accident just jammin' in the house with another ex-Hangmen bassist Kirky, dragged Ritchie in on rhythm guitar an did some studio time an a couple of gigs as a laugh we were called Lone Wolf No Club till we found out there is a biker gang called that. Huh? So I suggested Sons of Cavan( lifted from Dark knight Returns comic with the Sons of The Batman) to blatantly show our shared respect for Crazy Cavan then Kirky says why not Bastard Sons due to the fact we were truly bastardizin' the covers we did...then we started writing a glut of Teddy Boy themed songs just to ram it home even more!!
When and where was your first gig?
S: As BSC it was an Easter Sunday afternoon at The Castle in Durham City 24th April 2011 in front of a lot of burley blokes and orange women, ideal for hoying' insults at an generally whippin' up a storm.
Any plans to play in Europe?
S: All the time but were always poverty struck
How did you get the deal with Western Star?
S: We were there recording some swag an I just asked Alan any chance of a album then? To which he replied yeah why not? It's the same tactic I used to get Billy Childish to write me a song, shy bairns an all that..don't always work but its punching the air time when it does.
I've recorded at Western Star with Popeye's Dik. So any funny Wilson stories?
S: No matter how drunk, how sloppy, how ridiculous we were or how naked I got Mr Wilson kept an air of professionalism an stoic coolness about him an for that I salute him.
R: I think the first time we met it was quite funny, more for him than us though!
How is the album selling?
S: Probably it isn't.
What does the future hold for the band? More gigs, another album?
With a steady an reliable line up now were hoping to gig more, we just supported the Zipheads an we got a Vince Ray gig comin' up, we would like to play the likes of Bedlam an any help regarding gigs are always welcome. Got a whole batch of new songs to record for Teddy Boys On Crack Demo shortly...hopin' to coerce Don E. Sibley on a guest vocal. May have some tracks sneakin' their way onto ZWOS2 soundtrack if it ever gets finished that is!!! Sat languishing' in Western Star Studios vaults are twenty odd songs waiting to be fully mixed, but as were skint I reckon they'll be there for sometime, if anyone would like to hand Alan Wilson £100 we will be entirely grateful. There will be a live DVD of us at The Angel Durham with a extra special Easter egg that'll be only a couple of quid kincaide62@yahoo.co.uk for any enquiries hate mail etc.
If I win the euro millions I drop Wilson a hundred quid to do the mix and who's that horny lady on your cover and is she up for being on another cover?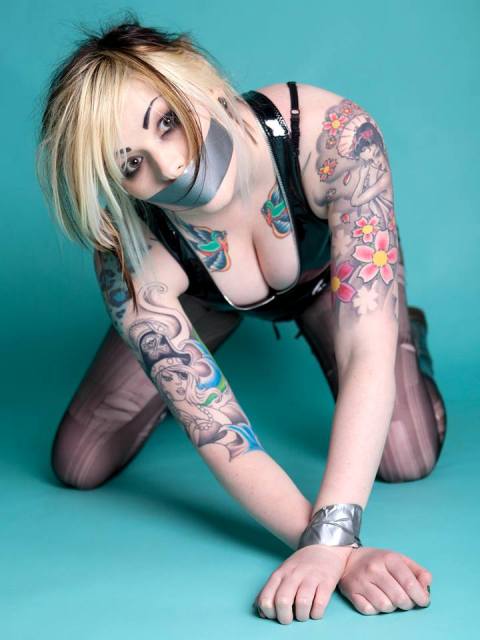 That'll be the delightful Nina Nekro last seen gettin' a chainsaw to the heed in Zombie Women of Satan. We're bout to do another photo shoot soon where she gets to ply us all with vodka then kill us off in various nefarious ways...none of that borin' couple of blokes stood against the wall band photos for us!! Hope that ain't so mind numbingly tedious to read Stay InfecTED.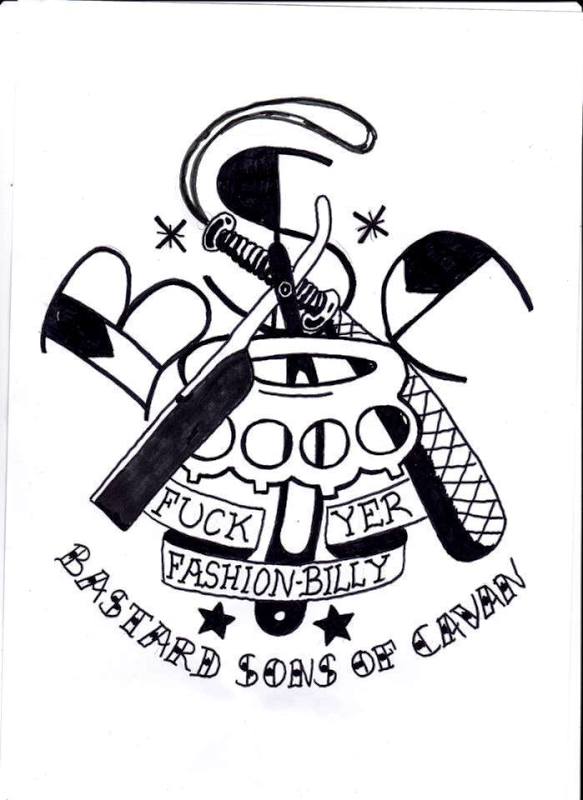 BASTARD SONS OF CAVAN ON FACEBOOK